Are you looking for a new career opportunity or a way to make extra money?
Have you considered freelancing on Upwork in India?
If so, then this article is perfect for you!
Freelancing through Upwork can open up new doors, allowing you to work remotely and make money doing what you love.
It's an exciting way to earn a living that could give you the freedom to work your own hours and be your own boss.
What is Upwork?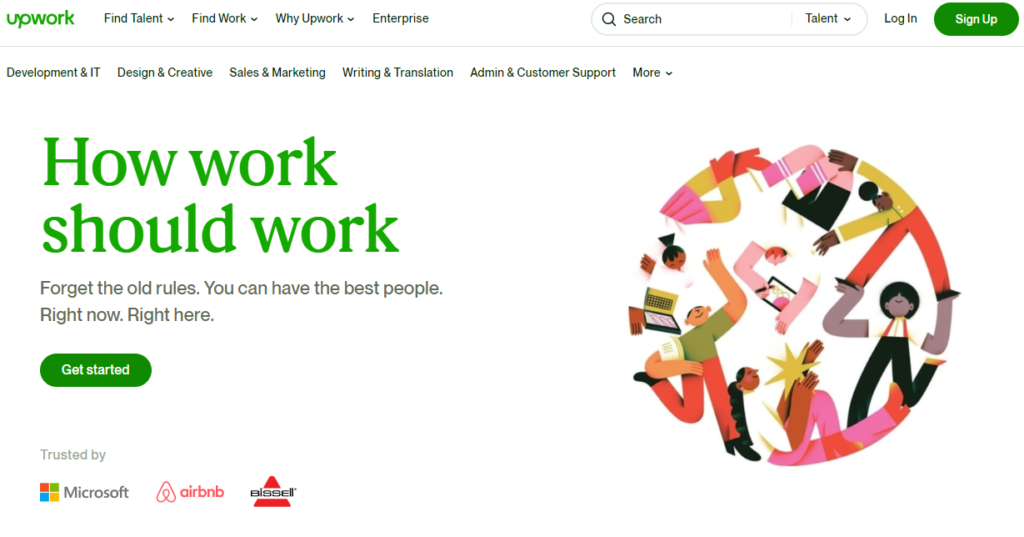 Upwork is one of the most popular freelance marketplaces in the world that connects freelancers with clients from around the globe.
With over 12 million registered freelancers, Upwork offers a vast range of job opportunities to people who want to work remotely and earn a living on their own terms.
The platform provides jobs across various categories, including web development, content writing, graphic designing, virtual assistance, and many more.
Upwork has become an excellent source of income for freelancers around the world.
In 2020 alone, these freelancers made 2.3 billion on the platform.
However, Upwork doesn't disclose the exact number of freelancers registered on its platform; the latest figure available dates back to 2018 when it was reported to be around 16 million (unconfirmed by Upwork).
Regardless of this fact, Upwork remains a viable option for anyone seeking flexible work opportunities that are not location-dependent.
How does Upwork work?
As mentioned, Upwork is an online platform that connects businesses or individuals with freelancers worldwide.
The process of using Upwork starts with creating a profile and identifying your skills, experience, and rates.
Once you have completed your profile, you can start searching for available jobs according to your skills.
To start freelancing on Upwork in India, you must create a strong profile highlighting your key skills and experiences.
This will increase the chances of getting hired by potential employers who are looking for someone with specific skill sets.
Once you find a job that interests you on Upwork, submit a proposal detailing why you're the best candidate for the project.
Employers will then review proposals and decide which freelancer they would like to hire based on their qualifications and experience.
Payments are made through Upwork's secure payment system once work is completed satisfactorily, making it easy for both parties to track progress and ensure timely payments are received.
Can people from India work on UpWork?
Yes, people from India can work on UpWork. UpWork is a global freelancing platform that connects businesses and independent professionals from around the world.
It is open to freelancers from all countries, including India.
In order to work on UpWork, Indian freelancers need to create an account and provide basic information such as their name, email address, and profile picture.
They also need to complete a profile that includes information about their skills and experience.
Once they have completed their profile, they can apply for jobs or create proposals to pitch potential clients.
UpWork offers a variety of job opportunities for Indian freelancers, ranging from web development and graphic design to content writing and customer service. With its user-friendly interface and reliable payment system, UpWork makes it easy for Indian freelancers to find work and get paid quickly.
And we will see how to go about freelancing on Upwork in India.
Is UpWork income taxable in India?
Yes, UpWork income is taxable in India. According to the Indian Income Tax Act of 1961, any income earned by an individual in India is subject to taxation. This includes income earned through UpWork or any other online platform.
According to Upwork themselves, they withhold a 1% tax from your earnings if all the following apply:
You have provided a valid PAN to Upwork
Upwork has verified your PAN, and
You have linked your PAN to your Aadhaar number by the Indian government's deadline or are exempt from this requirement.
As such, UpWork income should be reported under the head 'Income from Other Sources' on the ITR form when filing taxes.
This income may also be liable for TDS (tax deducted at source) depending on the amount of earnings and other factors.
Keep track of all UpWork payments received and declare them accurately when filing taxes to avoid penalties and other legal issues.
Also, we'd advise you to consult a professional tax advisor if you have any questions about declaring UpWork income for taxation purposes in India.
Getting Started with Upwork in India
To start freelancing on Upwork in India, you need an account.
Here's how to sign up for an account on Upwork:
Go to the Upwork website at www.upwork.com.
Click on the "Sign Up" button in the upper right-hand corner of the homepage.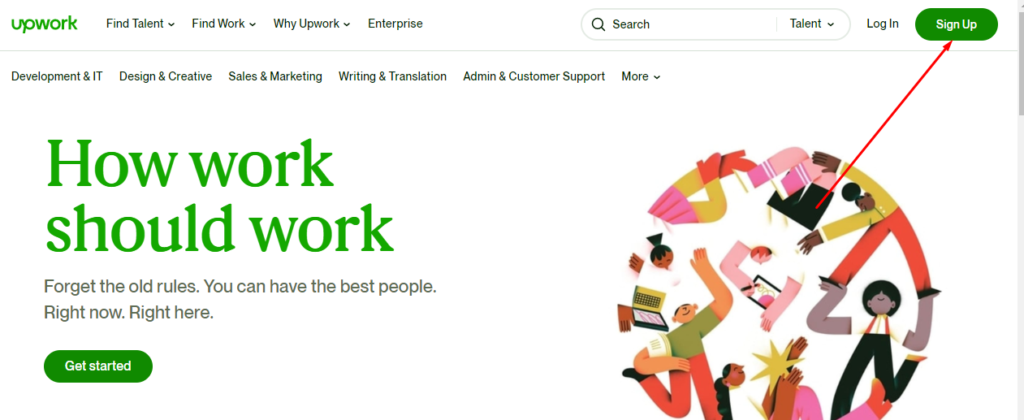 Choose whether you want to sign up as a client or a freelancer.
If you are looking to hire freelancers, choose "Client"; if you want to work as a freelancer, choose "Freelancer."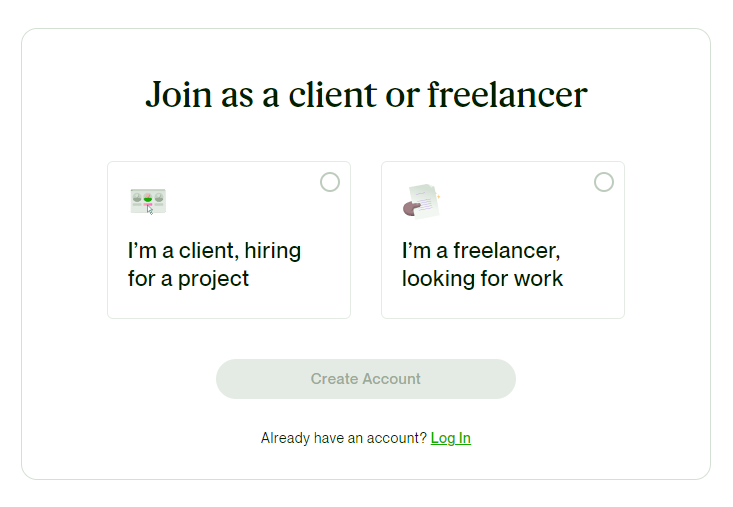 Fill out the sign-up form with your basic information, including your name, email address, and password.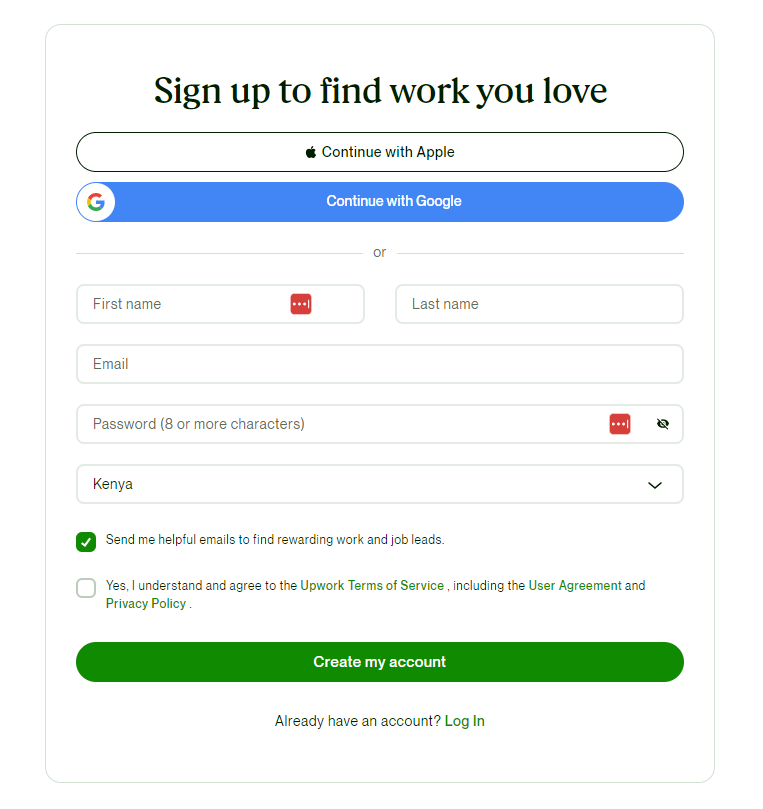 Choose your country and confirm that you are at least 18 years old.
Click the "Create My Account" button to complete the registration process.
Upwork will send you an email to verify your email address.
Follow the instructions in the email to verify your email address.
Once your email address is verified, you can complete your profile by providing additional information, such as your work experience, education, and skills.
As a freelancer on Upwork in India, you may need to take some skill tests to demonstrate your expertise in your field.
Finally, set up your payment method, and you're ready to start using Upwork to find work or hire freelancers!
Go to the settings section to complete these steps.
Create a profile that stands out
If you want to attract potential clients and get hired on Upwork in India you need a complete profile that stands out!
Here are some tips for creating an outstanding Upwork profile:
Choose a Professional Profile Photo: Choose a high-quality profile photo that reflects your professionalism. Avoid using casual or unprofessional photos.
Write a Compelling Profile Title: Your profile title should be a brief summary of your skills and experience. Make it concise, yet descriptive.
Write a Detailed Overview: Your overview should describe your skills, experience, and the services you offer. Highlight your strengths and explain why clients should hire you.
Showcase Your Best Work: Include samples of your work in your portfolio. Choose your best work that demonstrates your skills and experience.
Highlight Your Skills and Certifications: List your skills and any relevant certifications you have earned. This will help clients understand your expertise in your field.
Request Feedback and Reviews: Once you complete a project, ask the client for feedback and reviews. Positive reviews can help you build your reputation and attract more clients.
Choose the right skills to showcase
Not all skills can land you a job on this platform.
Therefore, assessing your abilities and determining which ones are in high demand is necessary.
One way to do this is by researching the most sought-after skills in your field of work.
You can also take a look at job postings on Upwork and see what employers are looking for in their ideal candidates.
By understanding the trending skills, you can tailor your profile and highlight those that match with the market's needs.
Moreover, showcasing relevant skills isn't enough; one must demonstrate their expertise effectively through portfolios or previous work experience.
Employers want freelancers who can deliver quality work efficiently, so providing evidence of your past accomplishments will help you stand out from other candidates.
That said, here are some of the most in-demand skills on Upwork:
Web Development: There is a high demand for web developers who can create websites, web applications, and mobile applications. Skills such as HTML, CSS, JavaScript, and PHP are in high demand.
Content Writing: Many clients seek skilled writers who can create high-quality content for their websites, blogs, and social media accounts.
Graphic Design: Clients need designers who can create logos, graphics, and other visuals for their websites and marketing materials.
Digital Marketing: There is a high demand for digital marketing experts who can help clients increase their online presence through SEO, social media, email marketing, and other digital marketing strategies.
Virtual Assistance: Clients need virtual assistants who can help them with administrative tasks such as email management, data entry, and scheduling.
Translation: With a global marketplace, translators need to translate documents and communications from one language to another.
Video Production: Many clients require video content for their websites and social media channels, making video production skills such as video editing and animation in high demand.
Accounting and Bookkeeping: Clients need accounting and bookkeeping experts who can manage their finances and help them make informed financial decisions.
Mobile App Development: With the growing popularity of smartphones, there is an increasing demand for mobile app developers who can create mobile applications for iOS and Android devices.
If you possess any of these skills, you've got a better chance of landing a client on Upwork in India.
Finding Work on Upwork in India
Once you have a dazzling profile, the next step to start freelancing on Upwork in India is to look for jobs and apply!
How to search for jobs on Upwork in India
One of the essential steps in starting your freelancing career is finding a job that matches your skills and expertise.
Upwork offers a wide range of job opportunities for different industries, but it can be overwhelming to find the right one.
To help you with this, here are some tips on how to search for jobs that match your skills and expertise.
First, make sure to complete your Upwork profile with all relevant information about yourself, including your experience, education, and portfolio items.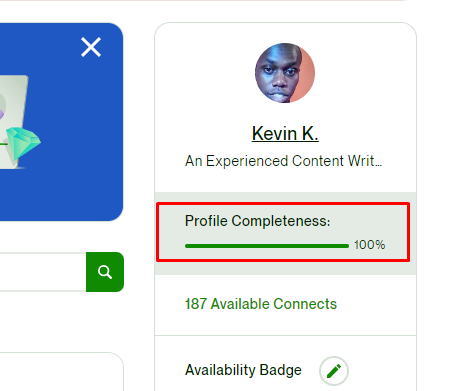 This information will make it easier for clients to find you when they search for freelancers who match their needs.
Secondly, use keywords related to your skills and experience when searching for jobs on Upwork's platform.
This helps narrow down the list of available job postings that are relevant to what you offer as a freelancer.
Lastly, filter the job listings by category or skill set using Upwork's advanced search options.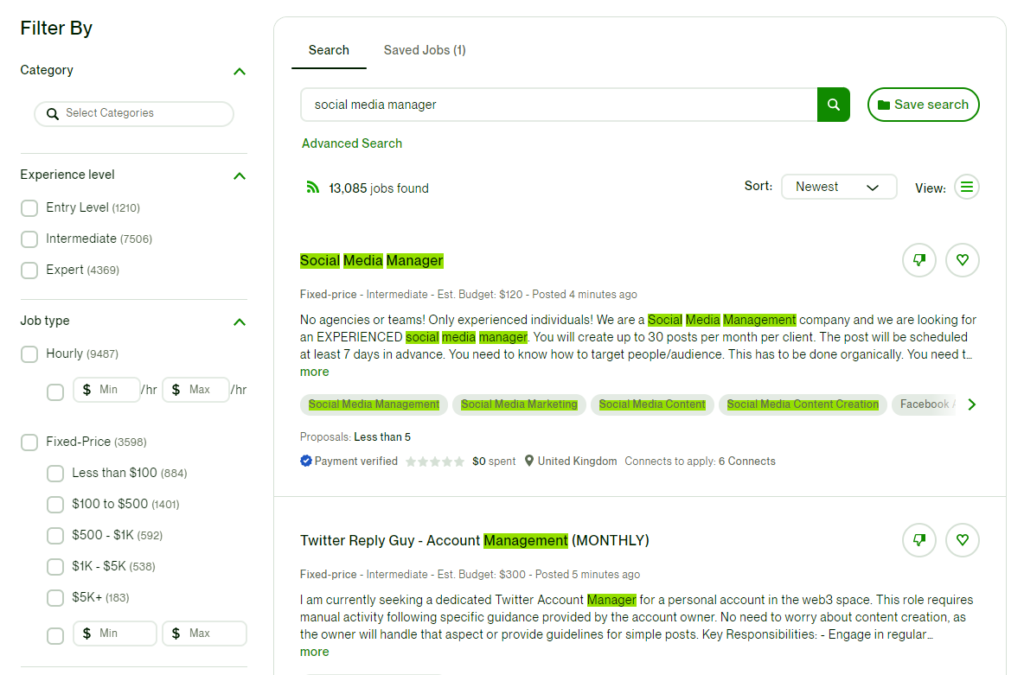 This allows you to focus only on jobs that align with your specific areas of expertise.
Following these steps while searching for jobs on Upwork's platform in India increases the chances of finding suitable gigs faster than usual.
How to write a winning Upwork proposal
Writing a winning Upwork proposal is key to getting hired for a freelance job.
Here are some tips to help you write a winning proposal:
Read the Job Description Carefully
Ensure you understand the client's requirements before writing your proposal. This will help you tailor your proposal to the client's needs.
For example, if a client is looking for a content writer to create blog posts, make sure you have experience writing blog posts and include examples of your work in your proposal.
Address the Client by Name
Address the client by name in your proposal to make it more personalized.
For example, "Hi John" is better than "Dear Sir/Madam".
Introduce Yourself
Start by introducing yourself and explaining why you are the best fit for the job. Highlight your relevant skills and experience that match the client's needs.
For example, "I am a professional content writer with five years of experience writing blog posts for various clients. I have a strong understanding of SEO and can write engaging content that drives traffic to your website."
Provide a Relevant Portfolio
Include a link to your portfolio or work samples that are relevant to the job you are applying for. This will help the client understand your skills and experience.
For example, "Please find my portfolio here: [insert link]. As you can see, I have experience writing blog posts on a variety of topics, including finance, health, and technology."
Explain Your Process
Explain how you plan to approach the project and the steps you will take to complete it. This will help the client understand your work process and ensure that you are a good fit for the job.
For example, "My process involves researching the topic, creating an outline, and writing the first draft. I will then revise the draft until you are satisfied with the final product."
Provide a Competitive Price
Provide a competitive price for your services that is within the client's budget. Explain how your pricing is justified based on your skills and experience.
For example, "My rate for blog post writing is $50 per post. This rate is competitive with industry standards and reflects my expertise in creating high-quality content."
End with a Call to Action
End your proposal by encouraging the client to take action, such as scheduling a call or hiring you for the job.
For example, "Thank you for considering my proposal. I look forward to the opportunity to work with you. Please let me know if you have any questions or would like to schedule a call to discuss the project further."
Communicate effectively with clients
This means being able to clearly convey your ideas, ask and answer questions, and provide updates throughout the project's lifecycle.
To communicate effectively with clients, start by setting clear expectations from the beginning.
Make sure you understand their requirements thoroughly and ask any clarifying questions necessary.
Once you've established a good understanding of their needs, create a detailed project proposal that outlines all aspects of the work you'll be doing.
During the project's execution, stay in regular contact with your client through Upwork messaging or video calls.
Be responsive to their inquiries and provide timely updates on your progress.
If there are any changes or issues that arise during the course of the work, make sure to communicate them immediately so they can be resolved as soon as possible.
Negotiate rates and terms
When starting out as a freelancer on Upwork in India, one of the most challenging aspects is negotiating rates and terms with potential clients.
It can be difficult to know what to charge for your services, especially if you're just starting out and don't have much experience.
However, remember that your time and skills are valuable, so you should never undervalue yourself.
One way to determine your rates is by researching what other freelancers in your field are charging.
This will give you an idea of the market rate and help you set a competitive price for your services.
You should also consider factors such as the project's complexity, the amount of time it will take you to complete, and any additional expenses or resources you may need.
When negotiating terms with a client, be clear about what is expected from both parties.
Make sure you understand their requirements and deadlines before agreeing to anything.
You should also establish payment terms upfront, including how much you will be paid and when payment will be due.
Remember that communication is key throughout the negotiation process – don't be afraid to ask questions or speak up if something doesn't feel right.
Related: How Much Can You Earn From Freelancing In India?
Deliver high-quality work on time
One of the most essential skills you need as a freelancer is the ability to deliver high-quality work on time.
Clients rely on freelancers to complete tasks within specific deadlines, and delays can be costly for both parties.
As a newcomer to Upwork in India, you must establish yourself as a reliable and competent professional.
The first step towards delivering quality work on time is thoroughly understanding your client's requirements.
Before accepting any project, ask enough questions about the job's expectations, timeline, and scope.
This will help you avoid misunderstandings and ensure that what you deliver meets the client's needs.
Once you have accepted a project, create a detailed plan for its completion that includes timelines and milestones along with regular checkpoints with your client.
Use tools like Trello or Asana to keep track of your progress and communicate effectively with your clients when something comes up or if there are any changes in scope or timeline.
By having proper communication channels set up from the start of working together, you'll be able to deliver high-quality work on time every single time!
Navigating Upwork's Platform
To succeed freelancing on Upwork in India, you must know your way around the platform.
Know features you can take advantage to make your job easier.
Understand Upwork's fee structure
How much does Upwork take from your earnings?
Upwork charges a service fee based on your earnings when you receive payment from clients.
If you earn up to $500 from a client, Upwork will apply a 20% freelancer service fee to your earnings.
However, if you surpass this threshold and earn between $500.01 and $10,000 from a single client, the service fee drops to 10%.
Note that if you work with multiple clients and earn money from all of them individually or collectively over time, the same rules apply for each one separately.
Additionally, those tax rates would also apply if your payments are subjected to taxes in India or any other country where you have registered as an independent contractor/freelancer/business owner.
Being aware of these fees upfront can also help you set more realistic pricing expectations for your services so that clients aren't surprised by additional charges at invoice time.
Use Upwork's messaging and time-tracking tools
As already mentioned, communication is key to building trust with clients and ensuring that projects run smoothly.
Upwork's messaging feature allows you to communicate with clients in real-time, making it easy to discuss project details, ask questions, and provide updates.
Moreover, the time tracking tool provides a transparent way to log hours worked on a project, which can be reviewed by both the freelancer and client.
This helps ensure that freelancers are paid fairly for their work and gives clients peace of mind knowing they are only paying for actual work done.
As a freelancer on Upwork, use these features regularly as they can help build your reputation on the platform and lead to more job opportunities in the future.
Submit work and receive payments
Once you have successfully completed a project, it is time to submit your work to the client.
Upwork provides an easy-to-use platform for freelancers to submit their work directly to their clients.
Simply upload your completed work and attach any necessary files or documents that the client may need.
Ensure you thoroughly review the project brief and requirements before submitting your work.
After submitting your work, it is important to stay in communication with the client until they approve or request revisions on your work.
Once clients approve your work, they will release payment through Upwork's secure payment system.
Depending on your chosen payment method, payment typically takes around five business days to process.
As a freelancer on Upwork in India, note that some certain regulations and taxes come with receiving payments for freelance services.
You should consult with a tax professional or accountant for guidance on how to properly handle these aspects of freelancing on Upwork in India.
Tips for Success on Upwork in India
Build a strong portfolio
Your portfolio is essentially your resume as a freelancer.
When you are starting out, it can be challenging to build a strong portfolio.
However, there are steps that you can take to showcase your skills and stand out from the crowd.
Start by selecting your best work samples and organizing them visually appealingly. This could mean creating an online portfolio website or using a platform like Behance to display your work.
Another important aspect of building a strong portfolio is tailoring it to the specific type of work you want to do.
If you are interested in graphic design, for example, make sure that your portfolio showcases your design skills and includes relevant projects.
Lastly, don't be afraid to include personal projects or speculative work in your portfolio if they demonstrate your abilities and creativity.
Get good feedback and reviews from clients
This is because having positive feedback and reviews can significantly improve your chances of getting hired for new projects.
It can also make you stand out from other freelancers in your field.
To get good feedback and reviews, it's essential to communicate effectively with your clients.
Ensure to understand their requirements thoroughly and keep them updated throughout the project.
Also, ensure that you deliver high-quality work within the agreed-upon timeline.
Another way to increase your chances of getting good feedback and reviews is by going above and beyond what's expected of you.
For instance, if a client asks for five revisions, consider offering six or seven instead. Doing so can show that you value their satisfaction and are willing to go the extra mile to meet their needs.
Stay up-to-date with the latest trends and technologies in your field
This can help you remain competitive and relevant to clients looking for specific skills or services.
Follow industry blogs, attend webinars, and read relevant publications to keep yourself informed about what's happening in your field.
One way to stay up-to-date is by following thought leaders in your industry on social media platforms such as LinkedIn or Twitter.
Engage with their posts and participate in discussions to expand your knowledge further.
And consider taking online courses or attending conferences to learn more about emerging trends and technologies.
It also helps you build credibility as a reliable freelancer who is committed to delivering value-driven results that exceed expectations.
Conclusion
Freelancing on Upwork in India can be a great way for individuals to earn a living while working from the comfort of their homes.
The platform offers various benefits such as flexibility, control over workload, and numerous job opportunities across various industries.
And Upwork provides a safe and secure environment for freelancers to work with clients worldwide.
If you want to start your freelancing journey on Upwork in India, now is the time!
Start signing up for an account today and explore job opportunities that match your skills and interests.
Remember to stay focused, committed, and always strive for excellence in every project you undertake.
With hard work and dedication, success is within reach! 
Related: How To Earn As a Freelancer In India: 6 Easy Steps To Follow