Fashion is an essential part of our lives and people have different tests when it comes to style. Some years back, fashion was limited to models and celebrities.
The fashion industry in India has recently taken a new course and most of the credit now goes to fashion bloggers. Fashion bloggers have shifted the perception of looking at fashion.
All the changes from normalizing wearing sneakers with ethnic clothes to men talking about skincare routines have been brought forward by bloggers. They update people about the latest trends, introduce new brands, and also educate people about what is not working with fashion.
Back in 2004, fashion blogging was a ridiculous term in India. Thanks to Indian Fashion bloggers who have made it possible for Indians and even other nationalities to understand fashion better and develop their sense of style.
Some Indian bloggers are going out of their way to bring in much-needed change in India. Indian bloggers understand color theory, body types, Indian culture, and trends so well. Therefore, they can incorporate these elements into their looks.
Here is a list of top fashion bloggers killing it with their wardrobe game in India. If you wish to look super stylish or simply need some fashion inspiration, these Indian bloggers can help you get the wardrobe transformation you need.
#1. Santoshi Shetty

Santoshi Shetty is a 28-year-old popular Instagram fashion blogger and social media influencer.
Her sense of fashion is extremely eccentric making it super inspiring. She is always traveling to new places and exploring different aspects of fashion.
Shetty's sense of style is super modern and chic. Her feed also has a beautiful aesthetic that will keep you hooked to her profile.
Shetty has a huge Instagram fanbase of 739k.
She also runs a blog named The Style Edge where she talks of vintage quirky fashion with a tinge of minimalism we all love.
https://www.instagram.com/santoshishetty/
#2. House of Misu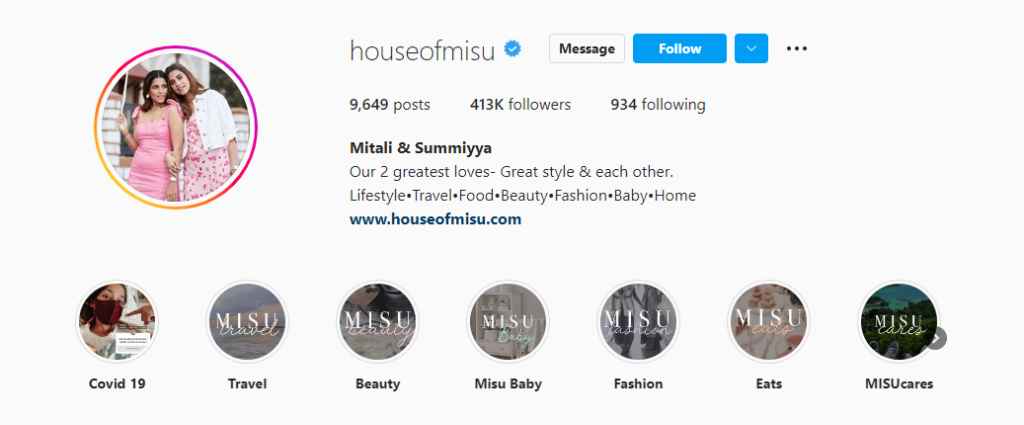 House of Misu is a blog that was started by two friends Mitali and Summiyya hence 'Mi+Su'. The blog is all about fashion, beauty, travel, food, and design.
They always stay ahead of the fashion trends, and they always make sure their followers are aware of these trends. They have collaborated with popular brands like Pipa Bella and Shaze.
#3. Shivani Singh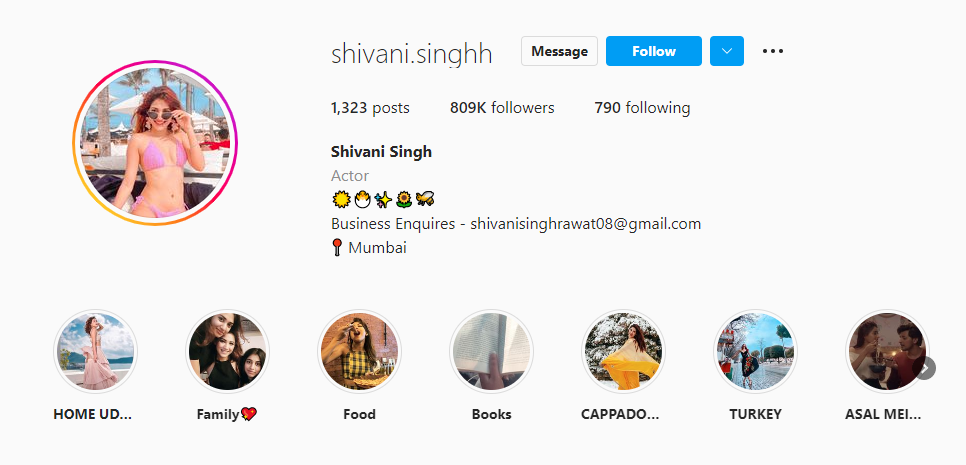 Shivani began her career as a fashion blogger in 2016 and now she is an enthusiastic travel blogger. For Shivani, blogging is a way to transform her passion into reality.
Singh creates many attractive and unique outfits.
#4. Cherry Jain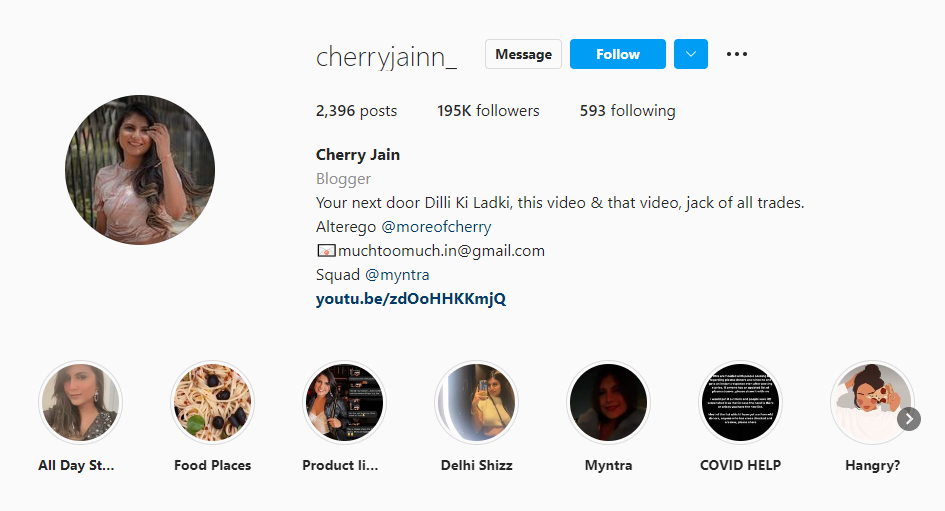 Cherry started her blog 'Muchtoomuch.com' after passing out of Delhi University. She has become a fashion icon to thousands of women by taking casual wear to another level.
Cherry Jain has recently launched 'Shop Damera' an affordable brand for women. When in doubt about what to wear, scroll through her Instagram feed for minimalistic yet stunning suggestions.
#5. Sakshi Sindwani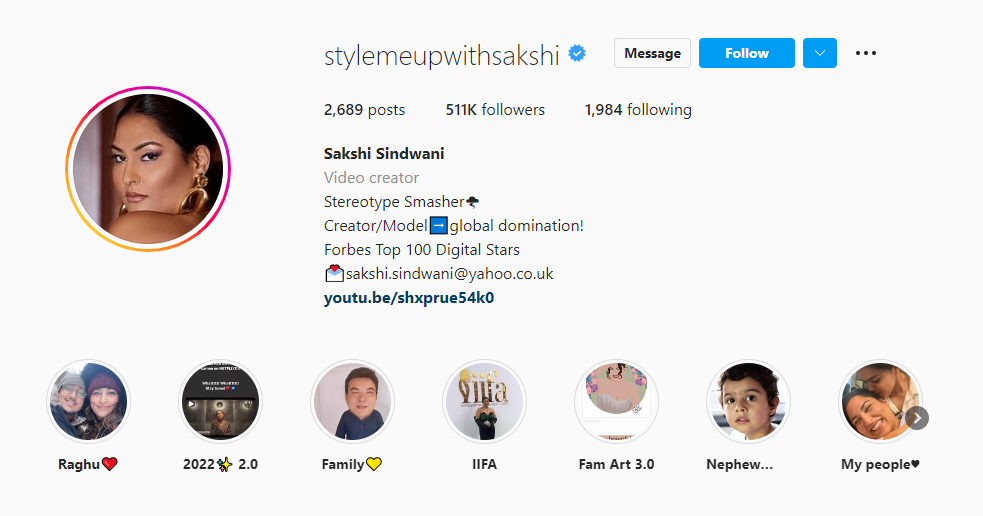 Sakshi is a fashion blogger who is famous by the name 'Stylemeupwithsakshi'. Sakshi stands out for her content about promoting body positivity, self-love, and building self-esteem.
She won an award for Cosmopolitan Blogger: Body Positivity Icon-2021. This blogger not only has a great eye, but she also shares super helpful tutorials on her page.
Sakshi also features super helpful tutorials on how to pull off fancy silk pieces, and how to mix prints.
#6. Pooja Mundhra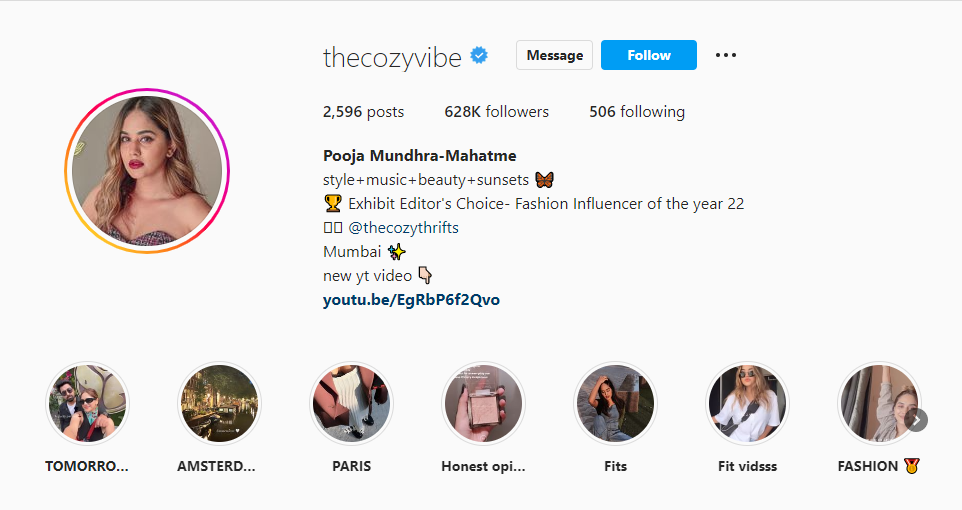 Pooja is a Mumbai-based blogger who has got her finger on the pulse of basically every trend. Her Instagram and blog 'TheCozyVibe' page uniquely incorporate trends in beauty, fashion, and skincare.
She also shares her knowledge of interior design by suggesting home decor ideas. Pooja believes that consistency and a motivated approach is the key to achieving the best in your blog career.
#7. Shereen Sikka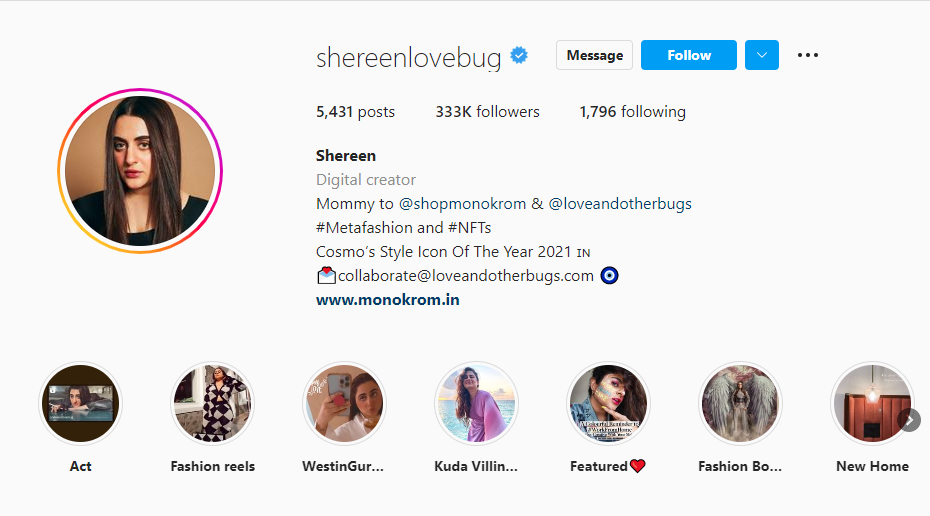 Shreen is an Indian fashion blogger who loves creating trendy looks that are practical and affordable. She studied fashion in London and later joined the Bollywood industry as a stylist.
She has a blog page together with her sister Trishala Sikka called 'Love and other Bugs'.
#8. Gia Kashyap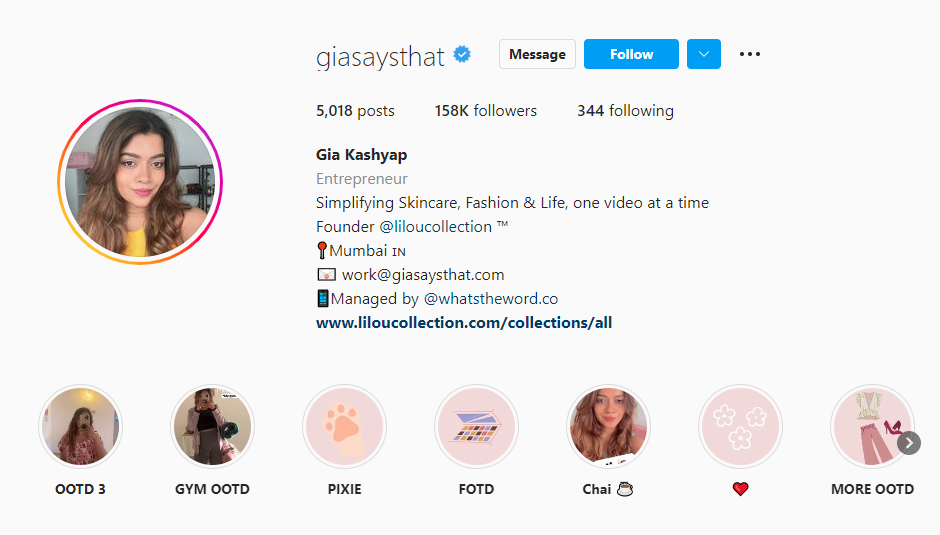 Gia is all about beauty, style, fashion, and lifestyle on her Instagram account. To her fashion is an art.
She is always working on exclusive and considerable ideas on fashion and style. Her sense of style and wellness advice is one of the reasons to tap into her page.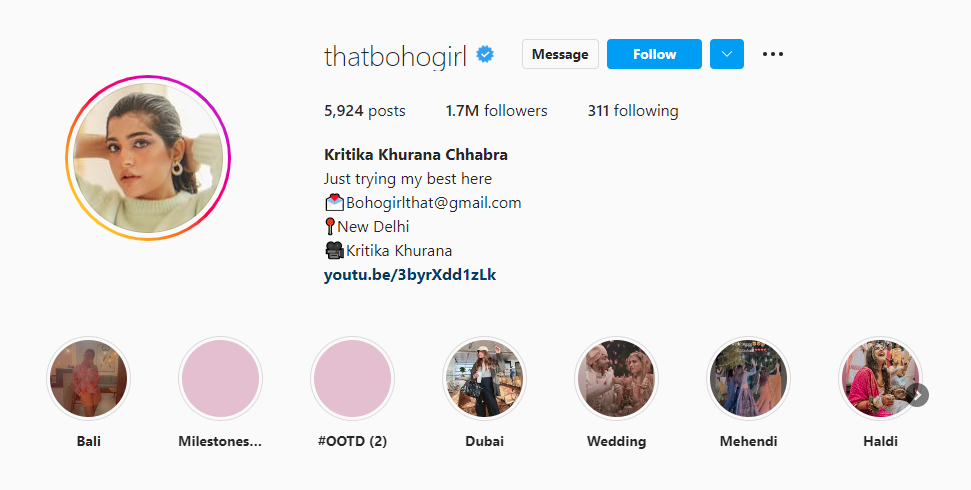 Kritika is one of the leading fashion influencers and a Youtuber in India who runs a blog by the name "That Boho Girl".
Her fashion blog talks about everything bohemian, quirky, and colorful while her youtube channel is more about shopping haul vlogs.
With over 1.1 million followers on Instagram, Kritika talks about achievable fashion with a tinge of Indian touch.
#10. Masoom Minawala Mehta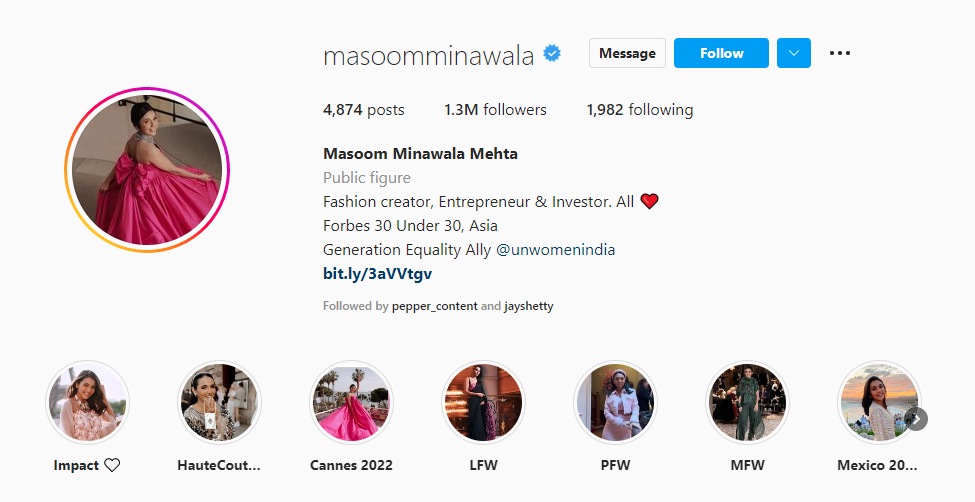 Masoom is one of the oldest Indian fashion bloggers and India's best luxury Fashion bloggers of 2019. Masoom's style is not only trendy, unique, and vibrant, she also deals with leading fashion and accessory brands.
She also has a youtube channel and believes that genuineness is the key that keeps her going. Masoom is all about promoting talented Indian designers.
#11. Juhi Godambe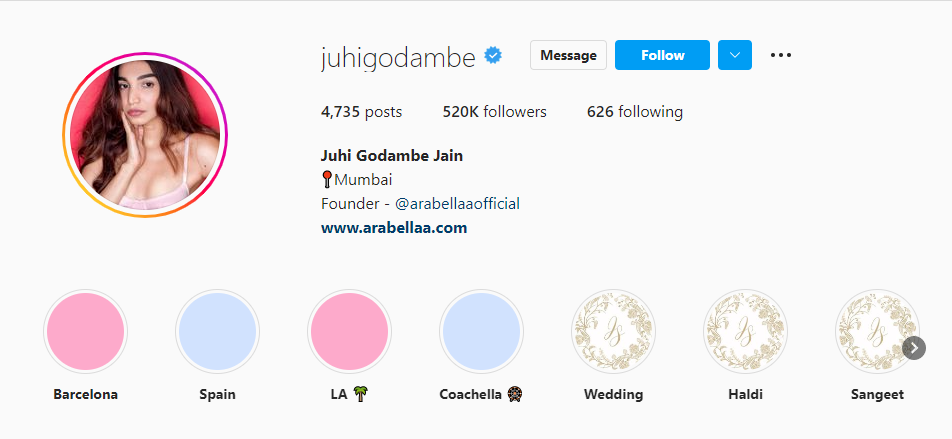 Juhi Godambe is one of the top-most fashion bloggers in India. Her magnificent sense of style and easy-to-recreate looks makes sense since fashion runs through her blood, literally.
Her parents worked in the fashion industry for more than 30 years. Her looks have the essence of street style fashion and elegance. She even launched her own label, Arabella.
If you wish to stay updated on street style's latest fashion trends, her profile is the place to be.
#12. Jyo Shankar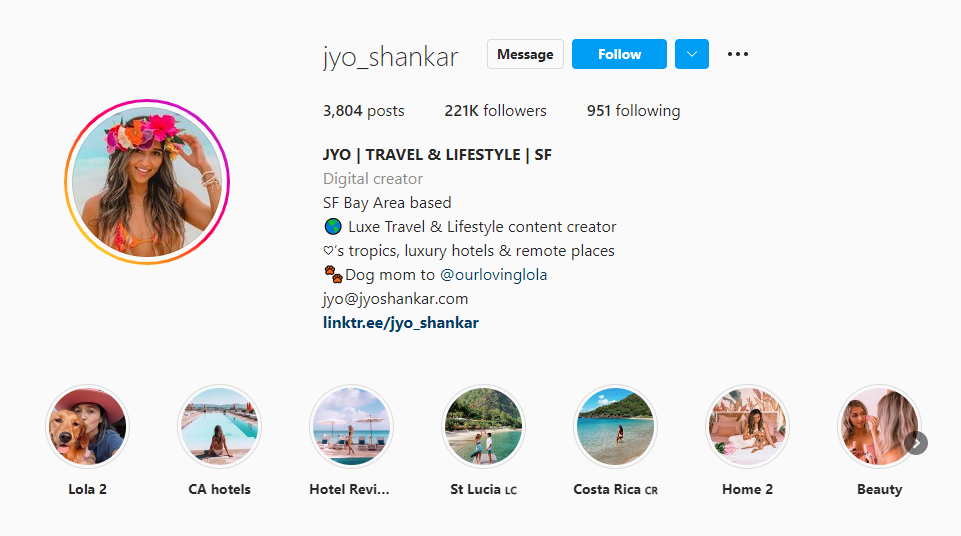 Nobody cranks out scenic outfit shoots like Jyo. Jyo started her fashion, travel, and lifestyle blog as merely a creative outlet. She likes traveling to beaches and wearing cute swimwear outfits.
All her Instagram fans love her aesthetically shot serene outfits. She shares travel guides, hotel reviews, travel tips, fitness mantras, and fashion trends on her page, which can be of great help to you.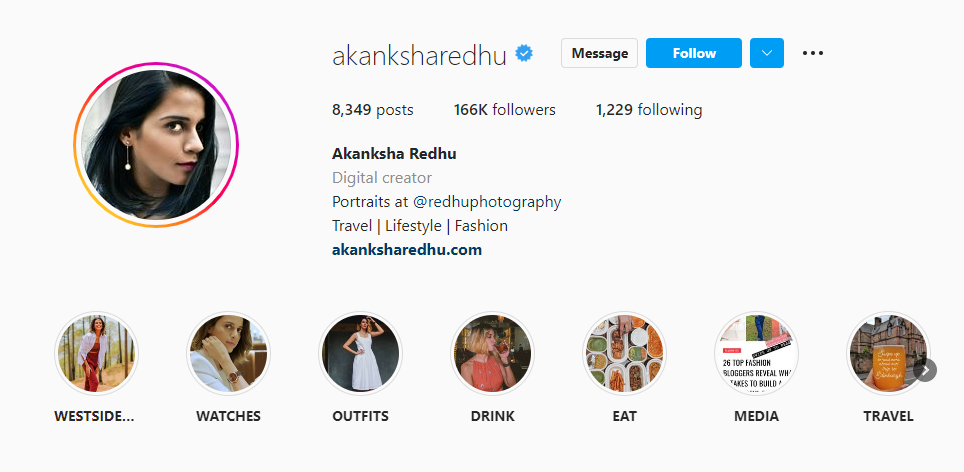 Akanksha is a fashion blogger based in Delhi. She is one of the oldest fashion bloggers having started in 2010.
She posts about Luxury Fashion, lifestyle, and travel and has collaborated with several high-end brands to diversify her portfolio. Akanksha's unique style is extremely relatable and easy to follow.
#14. Komal Pandey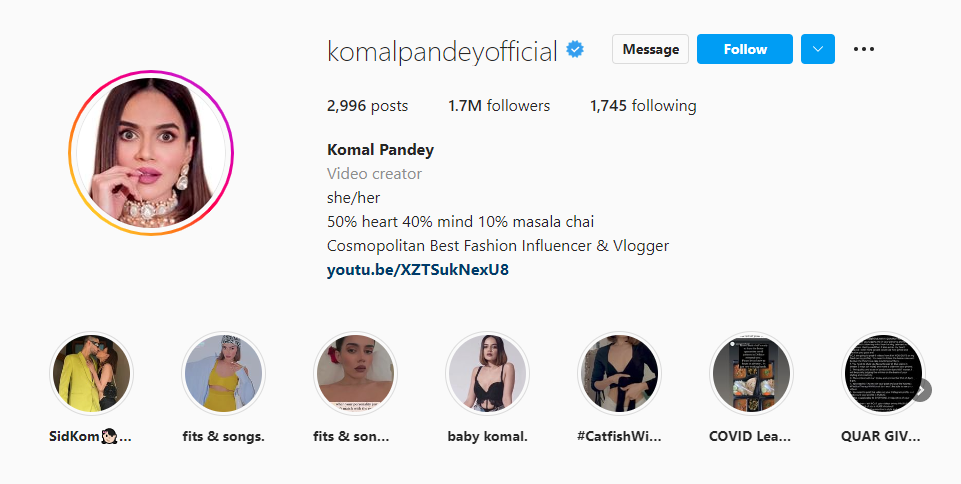 I'm sure you might have heard of Komal Pandey. Her fashion is like therapy and she is extremely creative with her looks since she is always trying something new.
Komal started her career with a fashion blog, then worked with Popxo as a Fashion Content Creator, and then started her youtube channel. She is known for the multi-way styling of one product, affordable and reusable fashion.
#15. Roshni Bhatia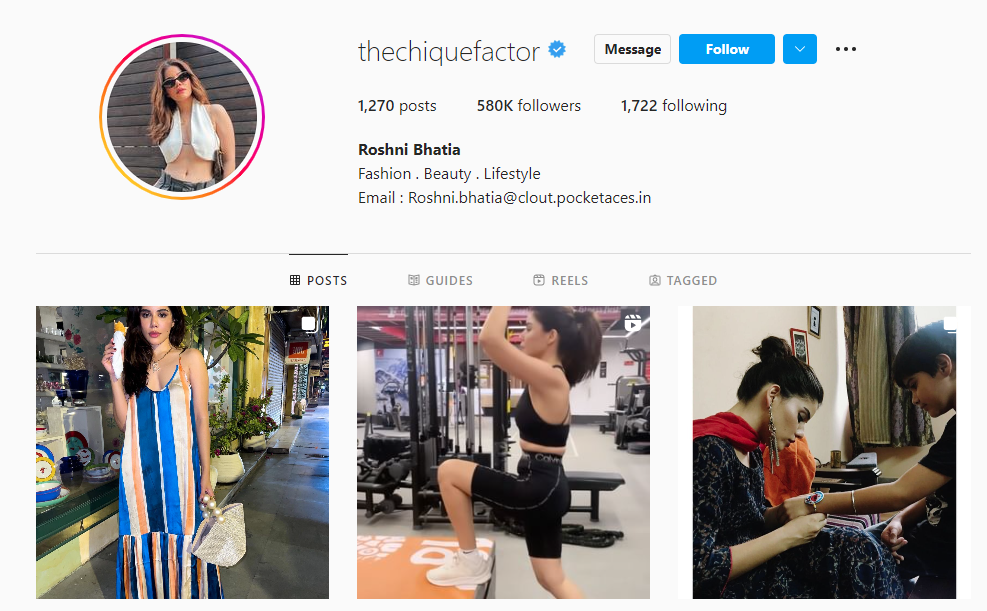 Roshni Bhatia is an Indian Luxury Beauty Blogger and Youtuber who is a fashion inspiration for many. She started her journey by being a fashion producer at Popxo, later creating her Instagram blog "Thechiquefactor" and a youtube channel. She's also a mom of a 12-year-old son.
Roshni is famous for her makeup, fashion, and beauty hacks. She has been featured in several fashion and lifestyle magazines like Vogue. She has also endorsed several brands on her social media like Colgate, Lakme, Lays, and Ponds.
#16. Aashna Shroff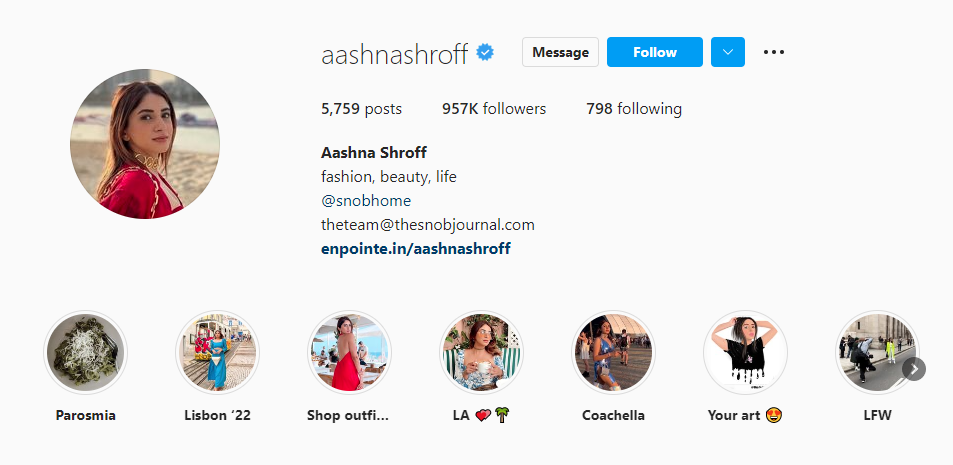 Aashna Shroff is an Indian Fashion Blogger for Luxury fashion and a travel blogger. She started with a fashion blog named The Snob Journal and sold garments online on Facebook.
She is not only known for her amazing sense of fashion but also for how to click great pictures of her work. Her feed is full of beautiful ensembles that are picturized in a very stylish way.
She's also done courses in Interior design, photography, and a degree in fashion from the London School of Trends. She was named the most engaging influencer by Cosmopolitan in 2019.
#17. Riya Jain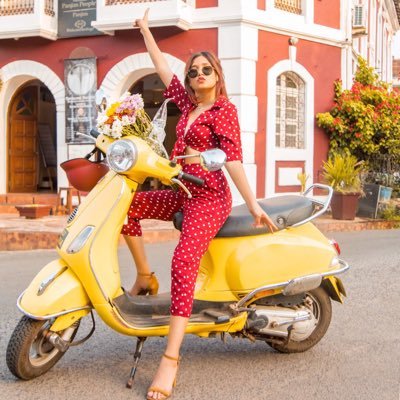 Riya Jain is an Indian social media influencer, TEDx speaker, and Fashion Blogger who's the owner of Caught in a Cuff 2014.
She started her journey as a blogger by posting OOTD on her channels. Her blog is about her style and everyone adores how cute she looks in every other outfit she curates.
Riya's content inspires many women and young girls to be confident and bold. She talks a lot about makeup, skincare, and hair care.
#18. Dolly Singh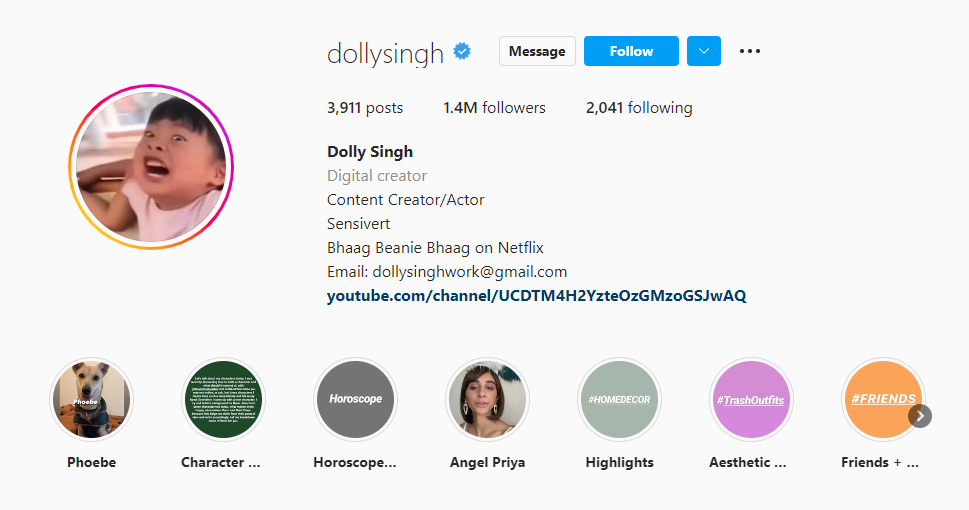 Dolly Singh started her fashion blog named 'Spill the Sass' while pursuing her master's in Fashion. Later, she started working as a content creator for Idiva which together with her comedy content helped her rise to fame.
She has collaborated and produced videos with several Bollywood celebrities such as Priyanka Chopra, Ayushmann Khurrana, Kareena Kapoor, etc.
#19. Siddharth Batra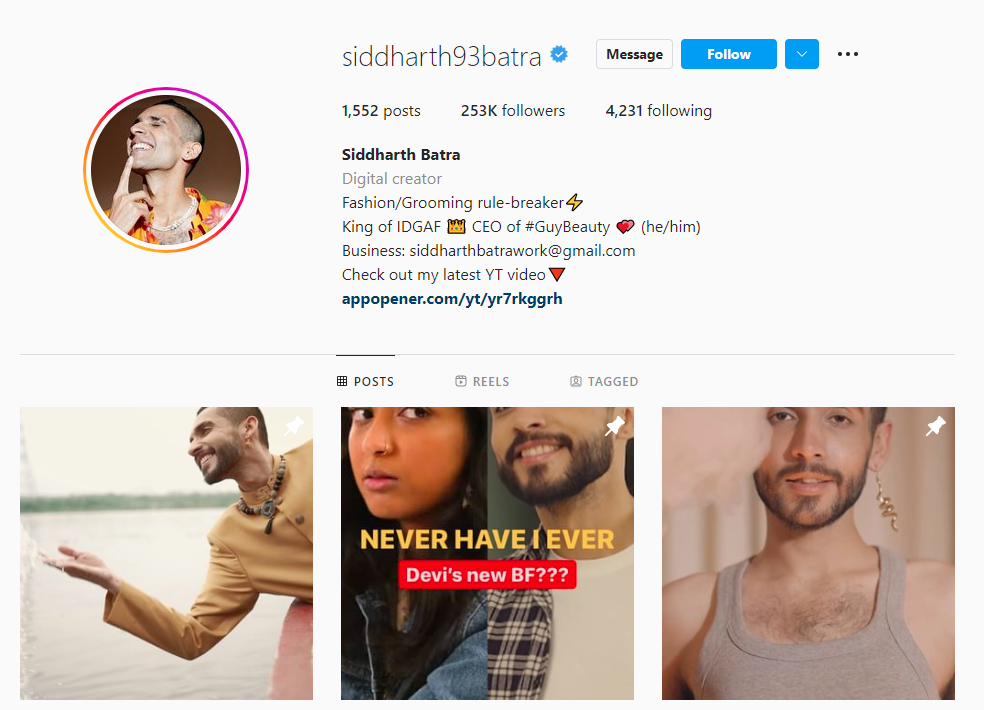 Siddharth Batra is a style editor at MensXP and an Instagram Men's Fashion Blogger who created a buzz with his content about normalizing makeup and skincare for men.
He also won Cosmo fashion influencer of the year 2021. Siddharth recently started his youtube channel where he shares his daily activities and vlogs.
As a fashion blogger, he has paved the way for gender neutrality and metrosexuality. He encourages men to follow a simple skincare routine and talks of skincare and makeup as tools for self-care.
#20. Sejal Kumar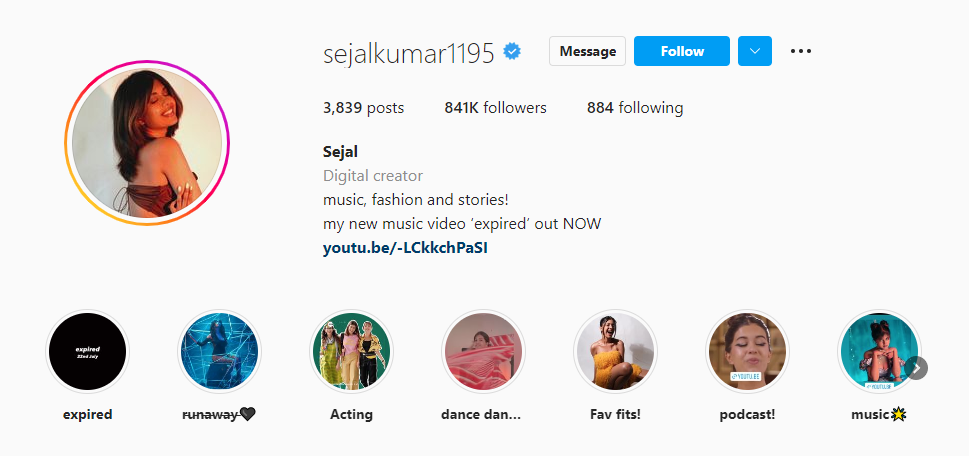 Sejal is one of the leading fashion bloggers in India and also a Youtuber. She creates diverse content related to fashion, lifestyle, beauty, music, dance, and travel vlogs.
She is associated with a lot of fashion and lifestyle brands and is currently the brand ambassador of The Beauty Co. brand. Sejal gives the most relatable fashion advice, be it an Indian outfit or a western outfit.
She faced a lot of hate at the beginning of her blogging journey but soon realized that one must not let themselves get affected by trolls and she stood for what she believed. Sejal Kumar recently dropped her new song #khalikhali
#21. Akriti Rana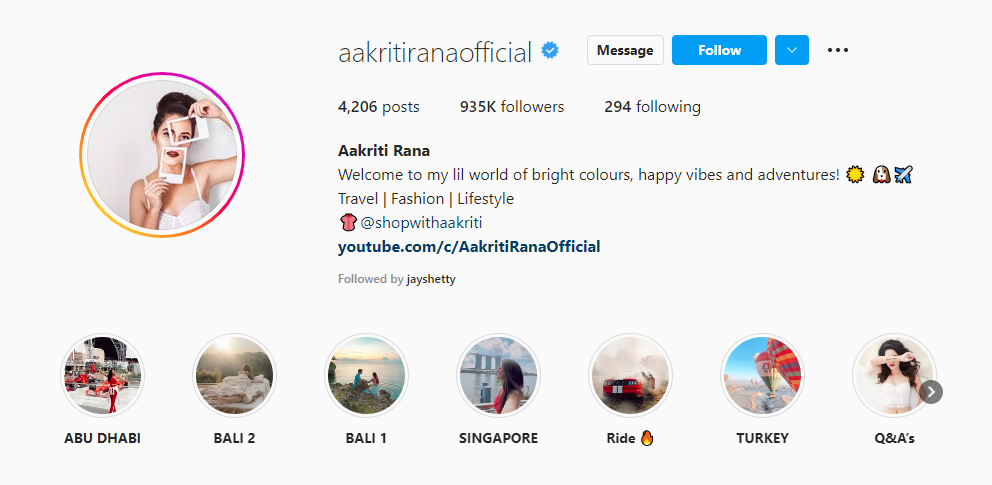 Akriti Rana is a fashion blogger and an eager content creator, the owner of the youtube channel "Pretty little things" along with her best friend Shaurya Sanadhya.
She is a fashion and makeup enthusiast who works on a variety of interesting topics through her blogs and videos. She has worked with designers, luxury brands, and international brands and her profile is full of brilliant colors, happy vibes, and incredible experiences as well.
#22. Usaamah Siddique
Usaamah Siddiqui is one of the creative men's style bloggers in India. His aesthetic and an extremely soothing minimalistic vibe are truly inspiring to a lot of young men.
He runs his own clothing line "The Dapper Label", and you will often see various celebrities and popular figures wearing it.
#23. Karron Dhingra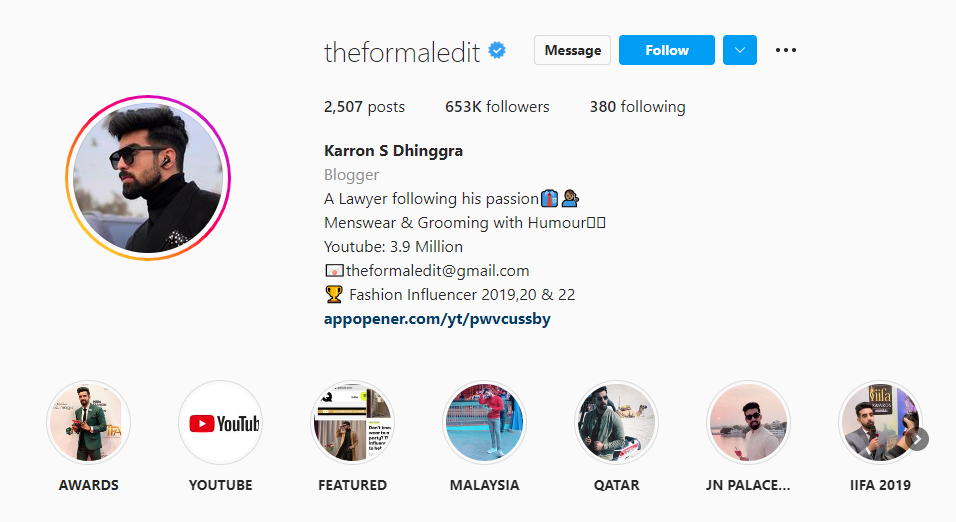 Karron Dhingra is a prominent influencer in menswear, an Instagram star, and a Youtuber with more than 3.8 million subscribers, where he shares men's fashion tricks and hacks being the style inspiration.
Karron is one of the most influential bloggers amongst men in India. Karron is a lawyer by profession. His blog is the ultimate guide for menswear fashion, grooming, and luxury. The blog is perfect for men who love traveling and experimenting with edgy looks.
#24. Diipa Khosla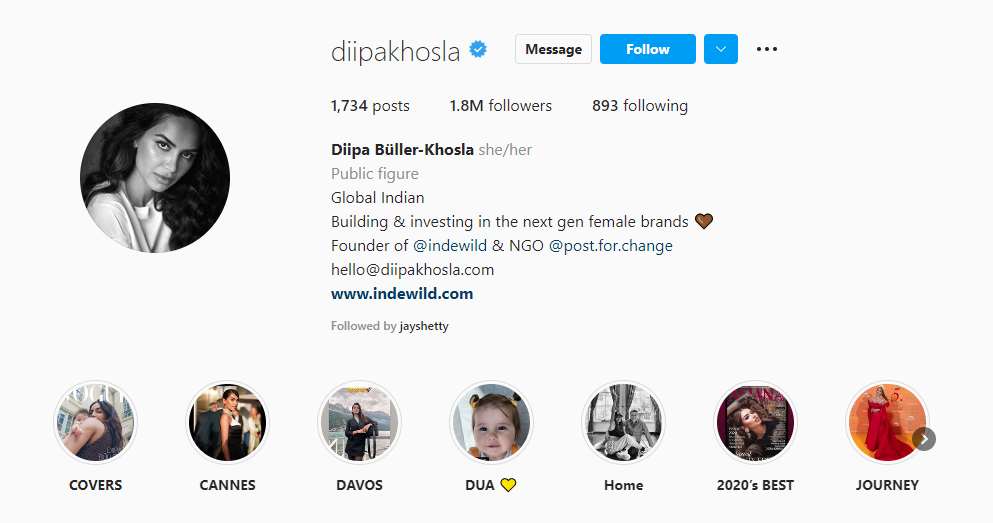 Diipa Khosla is one of the globally recognized Indian fashion and beauty bloggers and is the owner of the cosmetic brand " Inde Wild".
Apart from having a great taste in fashion and beauty, she is also a TEDx speaker and has also been awarded as the influencer of the year 3 times.
Diipa started being a social media manager in Amsterdam after completing her Law studies. She loves to blog about beauty and lifestyle and she also started a venture called 'Post for Change' for creating social awareness.
The quickest way to become an insta famous fashion blogger in India
Now that we've looked at some of the top fashion bloggers in India, how about we talk about how YOU can follow in their footsteps?
Step one: find your aesthetic
If you want to be a successful fashion blogger on Instagram, the first step is to find your aesthetic.
Ask yourself what kind of style you're drawn to and what kind of fashion you feel most comfortable in.
Once you have a clear idea of your personal style, start curating a feed that reflects that aesthetic. Fill your grid with images that are visually cohesive and represent the type of fashion content you want to produce.
Then, start experimenting with different filters and editing techniques until you find a signature look for your photos. With a strong visual identity, people will start to take notice of your account and engage with your content.
Step two: create a consistent posting schedule
Now that you have your profile and aesthetic down, it's time to get serious about posting.
Consistency is key when it comes to growing your following on Instagram.
Posting regularly lets your followers know when they can expect new content from you, and it also helps give your feed a cohesive look.
Aim to post at least once a day, or even better, multiple times a day.
If you are worried about running out of things to post, try using a content calendar to plan ahead. This will help you stay organized and make sure your posts are spaced out evenly.
Of course, quality is more important than quantity when it comes to Instagram posts. But if you can manage to produce regular content that is both high quality and visually appealing, you'll be well on your way to becoming an Insta-famous fashion blogger in no time!
Step three: engage with your followers
Once you've built up a following, it's important to engage with your followers on a regular basis.
This can be anything from responding to comments and questions to sharing interesting behind-the-scenes content or even just sending a quick message to say hi.
The more you interact with your followers, the more they'll feel like they know you, and the more likely they are to keep coming back for more.
Plus, it's always nice to put a face (or in this case, Instagram feed) to a name.
Step four: collaborate with other brands and bloggers
As a fashion blogger in India, it's important to build relationships with other brands and bloggers.
This can help you get your foot in the door with high-end brands and also help you promote your own brand.
One way to collaborate with other brands is to guest blog on their website or write style articles for their blog. This will help you get exposure to their audience and also help build your credibility as a fashion blogger.
Another way to collaborate is to partner with other brands on social media campaigns.
For example, you could do a joint Instagram giveaway where each brand promotes the giveaway to their followers. This is a great way to reach a larger audience and get people interested in your brand.
Finally, you can also collaborate with other bloggers by guest posting on their blogs or writing joint blog posts.
Step five: keep growing and learning
As your blog grows, so will your audience. And as your audience grows, you'll want to keep growing and learning too. Here are a few ways to do that:
Read other fashion blogs. This will give you an idea of what's out there and what's popular. You can also get inspiration for your own posts.
Attend fashion events. These are great opportunities to network and learn about the latest trends.
Take classes or workshops related to fashion blogging or photography. This will help you hone your skills and make your blog even better.
Keep up with the latest trends in fashion and technology. This way, you can be sure that your blog is always on the cutting edge.
What's in it for you?
Becoming an insta-famous fashion blogger in India has many benefits.
Perhaps the most obvious is the potential to make a lot of money. But beyond that, it can also lead to opportunities for free travel and other perks.
If you have a large enough following, brands will start reaching out to you to promote their products. This can be a great way to earn some extra income on the side.
And if you are really lucky, you might even be able to land sponsorship deals that can help you quit your day job altogether.
Imagine constantly jetting off to different fashion weeks or traveling to exotic locations for shoots, you'll quickly rack up some serious wanderlust points?.
Conclusion
Fashion blogging has led to new start-up ideas and brands which have ended up bringing more success stories giving many a sense of freedom from the regular 9-5 job.
The blogging industry is growing and so is fashion blogging in India. We all want to be updated with fashion and these influencers are here to make that a reality. Lets us know who is your favorite fashion blogger and why. Also if you find this article helpful kindly share it to help us reach more people.