According to an IBM study, every dollar invested in online training results in $30 of increased productivity.
For freelancers looking to enhance their skills and knowledge, this makes investing in high-quality e-learning courses a no-brainer.
With the rise of digital media and job opportunities for freelancers in India, online learning platforms have rapidly grown providing excellent courses for those looking to stay ahead of the game.
Today, let's explore some of the top courses you can take as a freelancer in India.
Freelancing: 37 Ways to Make Money From Home as a Freelancer: Udemy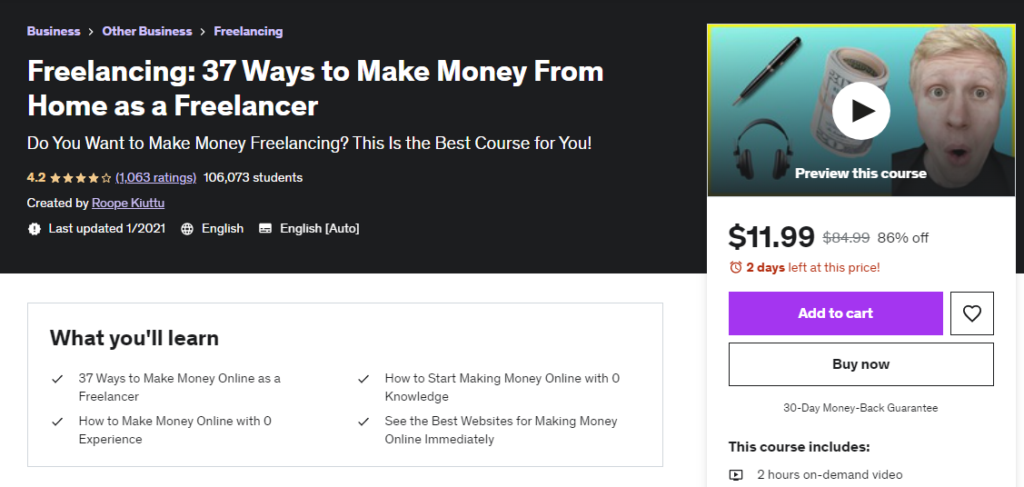 What you'll learn
37 Ways to Make Money Online as a Freelancer
How to Start Making Money Online with 0 Knowledge
How to Make Money Online with 0 Experience
See the Best Websites for Making Money Online Immediately
Are you seeking the flexibility to work on your own terms?
Perhaps you're looking for the ability to work from any location of your choice?
Or maybe you're seeking the freedom to live life on your own terms?
If you answered "yes" to any of these questions, then this course is perfect for you.
You'll discover 37 ways to earn money as a freelancer, and you don't need to be at home to do it.
With an internet connection, you can work from anywhere in the world.
As a resident of Finland, a country renowned for its exceptional education system, the instructor has taught over 100,000 students on Udemy how to make money online.
It's time to take control of your life and your income.
PS: Experts predict that by 2035, more than 1 billion people worldwide will be working online.
Will you be one of them?
Fiverr Freelancing 2023: Sell Like The Top 1%: Udemy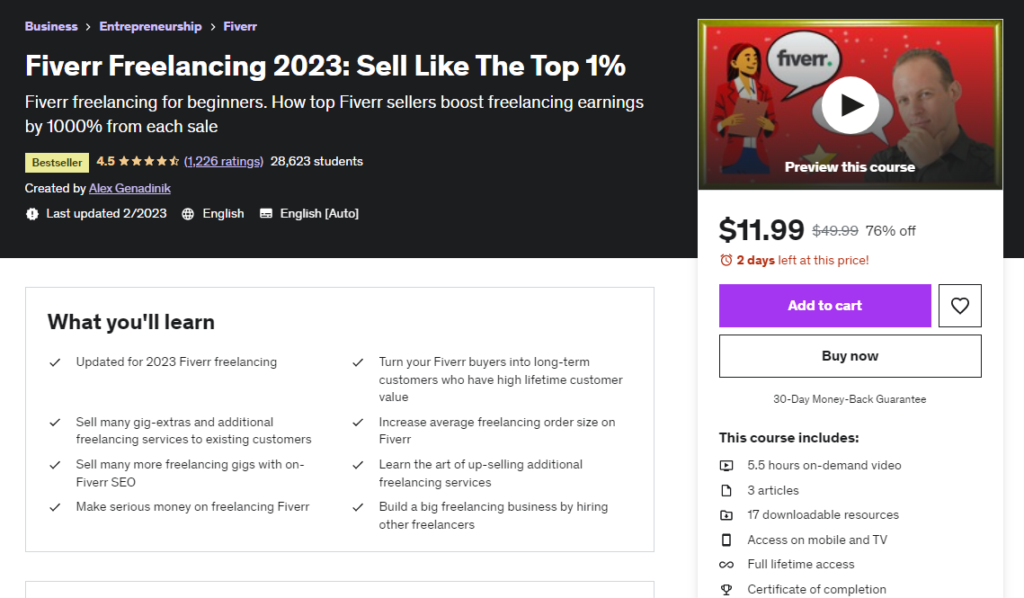 What you'll learn
Turn your Fiverr buyers into long-term customers who have high lifetime customer value
Sell many gig-extras and additional freelancing services to existing customers
Increase average freelancing order size on Fiverr
Sell many more freelancing gigs with on-Fiverr SEO
Learn the art of up-selling additional freelancing services
Make serious money on freelancing Fiverr
Build a big freelancing business by hiring other freelancers
Alex has a 15+ year background as an entrepreneur, coaching over 1,000 entrepreneurs in person and teaching 600,000+ students.
His impact has reached millions of entrepreneurs worldwide, creating 6 and 7-figure businesses in the process.
He is here to offer help to you.
As a successful freelancer on Fiverr for over 5 years, Alex has mastered the art of turning five-dollar sales into clients who spend thousands.
This is exactly what he teaches in this course.
Instead of thinking of Fiverr as discounted freelancing, consider it an amazing lead generation platform where the leads pay you instead of the other way around.
Why is Fiverr freelancing better than Upwork?
While you can post your freelancing services on both platforms, Upwork requires a substantial time investment in answering questions and applying for jobs without getting paid.
On Fiverr, many people simply order your services without an interview or application process, saving you time and effort.
In addition to the course material, you will receive freebies, downloadable worksheets, and exercises to make the course more interactive and valuable.
You will also have access to my personal Facebook community and my list of 50 business-success skills upon completion of the course.
As your instructor, Alex gives his personal time to answer 99% of student questions within 24 hours.
This Fiverr freelancing course also comes with an unconditional, Udemy-backed, 30-day money-back guarantee. Invest in your future and enroll now to turn Fiverr freelancing into a sustainable business.
This course is ideal for people looking to make money freelancing from home, those already freelancing on other sites looking to add Fiverr, and those looking to supplement their income with Fiverr freelancing.
How To Build a 5-STAR Profile on Upwork (& Get More Clients): Udemy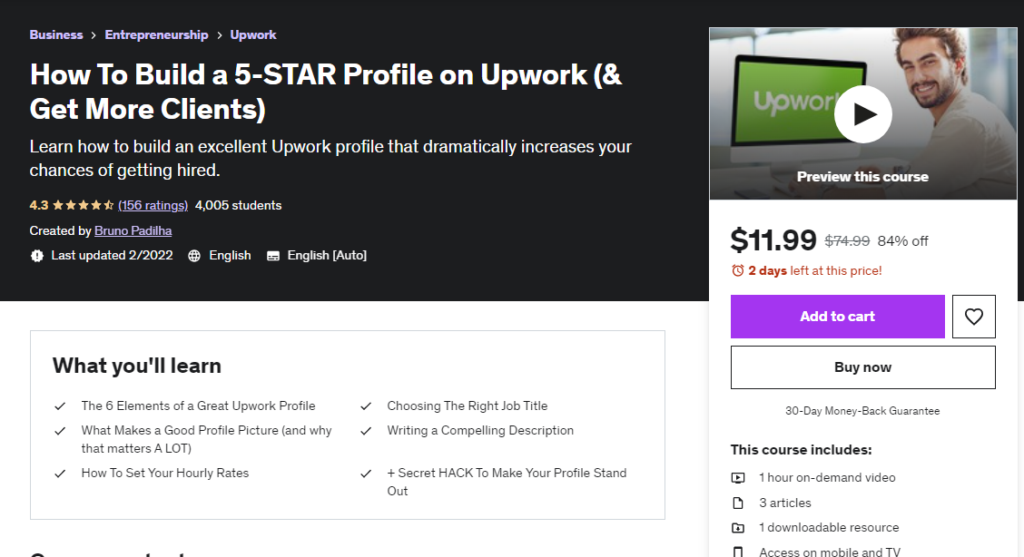 What you'll learn
The 6 Elements of a Great Upwork Profile
Choosing The Right Job Title
What Makes a Good Profile Picture (and why that matters A LOT)
Writing a Compelling Description
How To Set Your Hourly Rates
+ Secret HACK To Make Your Profile Stand Out
A freelancer's weak profile can be a major obstacle to landing jobs on platforms like Upwork.
Clients often quickly lose interest if your profile doesn't impress them. Your Upwork profile is essentially your resume, and it should present you as a qualified, experienced professional who is easy to work with.
In this course, you'll learn how to build an excellent Upwork profile that clients will love, dramatically increasing your chances of getting hired.
The course covers the six essential components of a great Upwork profile and offers pro tips on profile pictures, job titles, overviews, rates, and more.
You'll receive 14 HD videos that guide you through the exact steps to building a killer Upwork profile, along with a real example of a 5-star profile that you can use as inspiration for your own.
A table of average hourly rates across multiple fields will help you set the right rate for your services.
As a bonus, the course includes a list of the 20 highest-paying freelancing skills, which can help you increase your earnings on Upwork.
You'll also learn how to use videos to attract more clients and discover a secret trick to make your profile stand out from other freelancers in your field.
Your instructor, Bruno, is a 5-star top-rated freelancer on Upwork and the founder of Freelance Growth Academy, a website that helps freelancers get more clients and accelerate their careers.
With his experience and expertise, Bruno is the perfect guide to teach you how to build a killer Upwork profile.
Seth Godin's Freelancer Course: Udemy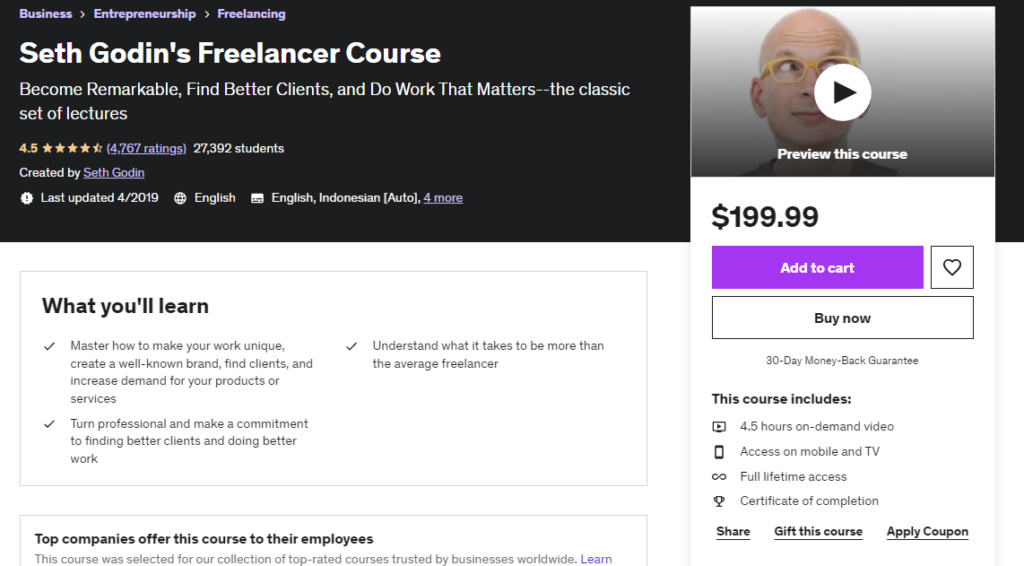 What you'll learn
Master how to make your work unique, create a well-known brand, find clients, and increase demand for your products or services
Understand what it takes to be more than the average freelancer
Turn professional and commit to finding better clients and doing better work
In this course, you will understand the freelancer lifestyle and how it can be applied to any industry.
By seeing the world from your clients' perspective, you will discover how taking control of your career, regardless of experience, can lead to success.
Seth will guide you on choosing the right clients and positioning yourself in the right place at the right time to find them. Clients will begin seeking you out by pushing yourself to produce outstanding work.
Each lecture, which is brief, intense, and sometimes humorous, will help you establish ways to build your reputation and promote your business, enabling you to step out of obscurity. You will learn how to make your work more valuable and how to price it to attract and retain clients.
This course allows you to become a well-known expert in your field. You will learn the fundamentals that consistently generate client leads, resulting in a higher income for freelancers.
Additionally, Seth addresses frequently asked questions (FAQs) that he has collected from his audience, providing insight into overcoming common challenges that freelancers face.
Throughout the course, you will complete exercises that will help you chart a clear path to success. Your success in this course will be determined by the effort you put into it.
By the end of the course, you will clearly understand what it takes to create a lucrative and fulfilling freelancing career.
You will have the confidence to be your own boss and the knowledge to implement your goals.
This course is designed for current freelancers who want to differentiate their businesses and anyone interested in becoming a professional freelancer.
This is not a course for those seeking shortcuts, guaranteed results, or an easy path.
Pricing Your Work: How to Value Your Work as a Freelancer – Skill Share

What will you learn?
How to set a price?
Deciding after understanding the client, competition, and expenses
How to make the price fair for the client and yourself?
More information about licensing and wholesale pricing
Freelancers often wonder about the appropriate price to quote potential clients, especially when working with international clients.
Many feel that they are not being fairly compensated for their services.
This course on freelancing addresses this common concern and guides you in determining a fee that is satisfactory to both you and your client.
While the course is suitable for beginners, it is also beneficial for experienced professionals who wish to assess their pricing strategies and ensure they are accurate.
Kickstart A Freelance Editor And Proofreader Career On Upwork: SkillSuccess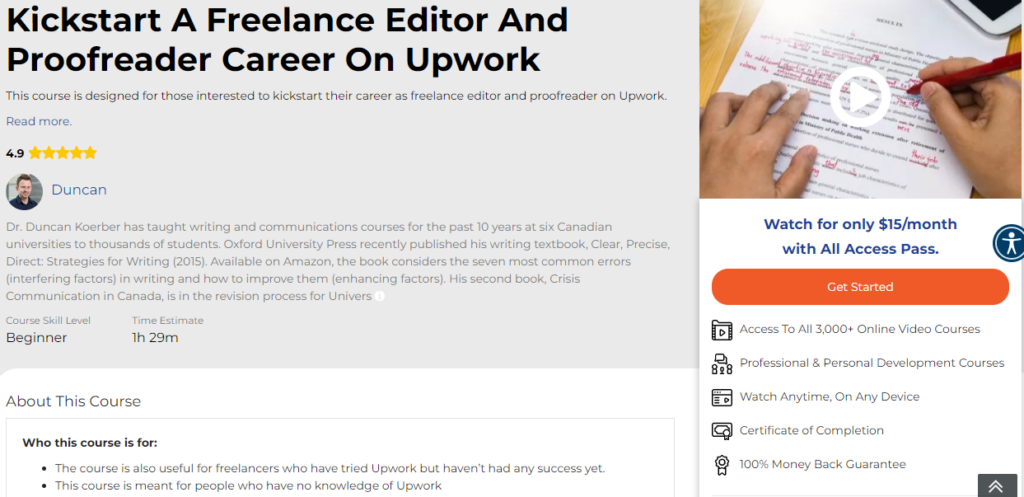 What you'll learn:
Know how to create an effective bid proposal cover letter to attract clients
Learn how to win contracts with sound bidding principles
Gain good ratings quickly to improve bidding chances
Know how to impress clients through simple editing philosophies and approaches
Cultivate repeat clients for further business
Fast-track your online editing and proofreading career
Know how to avoid the typical mistakes that cost new freelancers money
Are you looking to earn extra income from the comfort of your home in your free time?
Do you have a keen eye for detail in English writing?
Look no further and become an editor and proofreader on Upwork, the leading global freelance platform.
In this course, the instructor shares his experience on Upwork to guide you on quickly establishing yourself as an editing and proofreading freelancer. 
You will learn the art of creating an effective bid cover letter, winning bidding strategies, and how to bid competitively to secure more job contracts.
He will also reveal insights from my writing textbook, "Clear, Precise, Direct: Strategies for Writing" (Oxford University Press, 2015), to assist you in satisfying clients and earning high ratings.
His editing philosophy focuses on preserving the client's ideas and intended message while eliminating any distracting errors.
Furthermore, this course provides numerous other approaches, philosophies, and tips for editing and proofreading that have contributed to my 97% client satisfaction rating on Upwork.
Start building your freelance editing and proofreading career today and establish a loyal group of repeat clients.
At the end of this course, you will have the necessary knowledge to kickstart your career as a freelance editor and proofreader on Upwork.
They offer a 10-day money-back guarantee.
If for any reason you are not satisfied, simply contact them and they will provide a full refund – no questions asked.
Enroll today, and take the first step towards your freelance editing and proofreading career on Upwork.
Link: https://www.skillsuccess.com/course/editor-proofreader-upwork/
Fundamentals of Google Android Development – Alison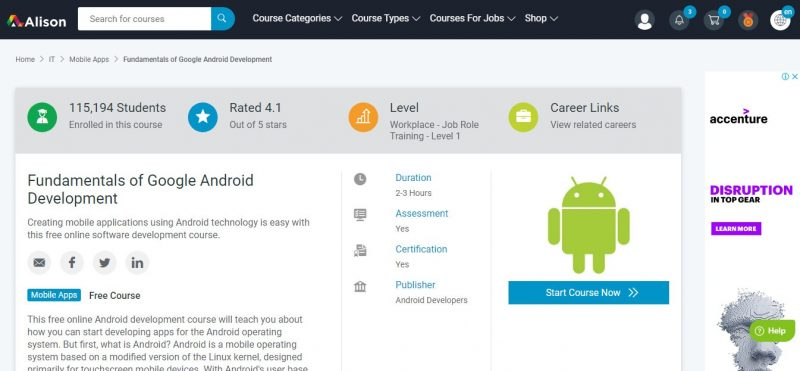 What will you learn?
What is Android?
Anatomy of an app
How to develop different Android mobile applications?
Managing background and images, views and layouts, borders, memory allocations
App Tools and Publishing
The need for skilled mobile application developers is on the rise.
If you're looking to improve your abilities and gain more knowledge in the field of mobile app development, Alison offers a course tailored for you.
Related: