Food blogging has become increasingly popular in India, with many bloggers sharing their recipes and food experiences.
Many of these bloggers have garnered influence and recognition through their work, becoming some of the country's most popular and successful food bloggers.
In this article, we will be looking at the top 5 food bloggers in India, highlighting who they are and why they deserved to be included on this list.
What is food blogging?
Food blogging has become one of the most popular niches in the blogosphere. It involves creating content related to food, such as recipes, restaurant reviews, food trends, and culinary experiences.
Food bloggers in India share their knowledge and passion for all things edible through their blogs.
The rise of social media platforms like Instagram and YouTube has added to the popularity of food blogging.
These platforms have made it easier for bloggers to showcase visually appealing content that attracts a wider audience. Many food bloggers collaborate with brands and restaurants to promote their products or services.
In India, food blogging has gained immense popularity over the years.
Several talented bloggers share their love for Indian cuisine with the world.
From traditional home-cooked meals to fusion dishes, these bloggers cover all aspects of Indian food culture while also exploring international cuisines. 
Related: 10 Best Niches for Blogging in India You Should Copy
What does it take to be a food blogger in India?
To be a successful food blogger in India, one must have an insatiable love for food and a willingness to experiment with new recipes and cuisines.
Beyond this, it is essential to have strong writing skills and the ability to take high-quality photographs that showcase the food in all its glory.
A keen understanding of social media platforms is also crucial, as many food bloggers rely on these channels to promote their content.
Building a loyal following requires consistency in terms of posting regular updates and engaging with readers through comments and feedback.
Stay up-to-date with current trends within the culinary world, while also maintaining authenticity by staying true to one's individual style and voice.
Finally, successful food bloggers in India understand the importance of networking within the industry and collaborating with other bloggers or brands.
This helps increase reach and offers opportunities for growth and learning from others in the field.
RICHA HINGLE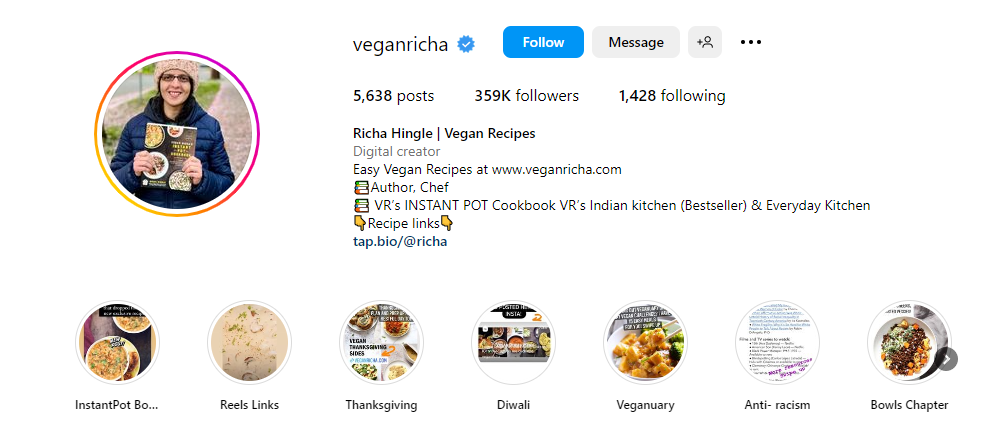 Discover the enticing culinary world of Richa Hingle, a remarkable food blogger who motivates her audience to embrace wholesome eating habits through her writings.
At Vegan Richa, Richa highlights her passion for veganism by publishing gourmet recipes that incorporate organic ingredients.
Richa's love for culinary innovation shines through her blog, inspiring readers to explore the possibilities of healthy vegetarian food with a unique twist.
The Vegan Thai Pizza stands out as a must-try among her many delectable creations.
SAILU'S FOOD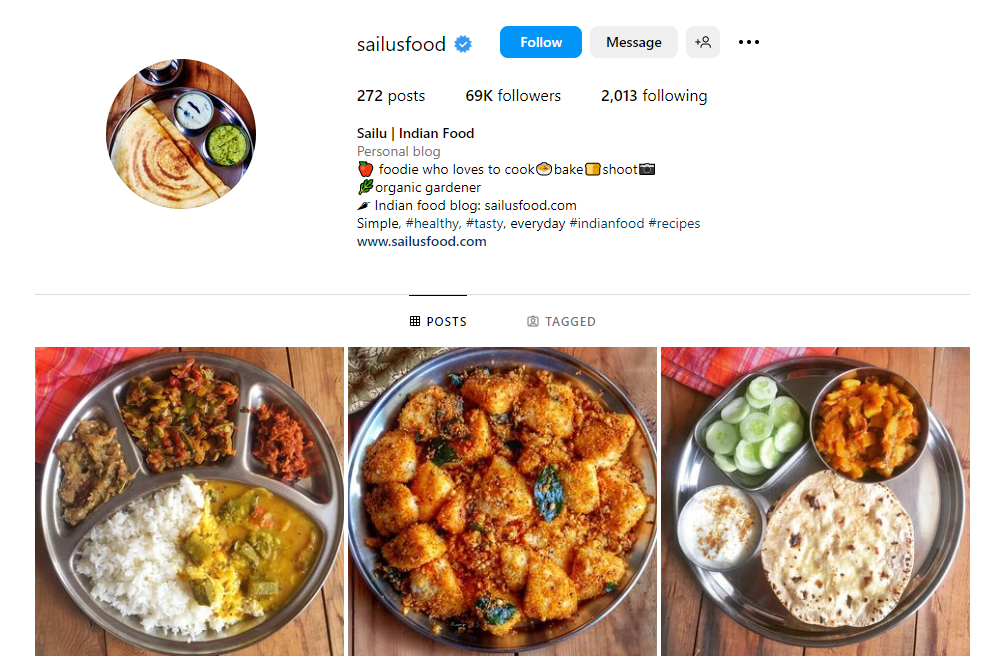 For those seeking appetizing food content, look no further than Sailu's Food.
Founded by Sailaja Gudivada, her blog focuses on Andhra cuisine, reflective of her roots.
Her delectable recipes are satisfying to the taste buds and a feast for the eyes with their visually appealing presentation.
Sailu is not just a passionate food blogger and photographer, but also an organic gardener who grows her own produce.
She inspires her followers to do the same and shares her knowledge on gardening.
During various Indian festivals, her unique and mouth-watering dishes are nothing short of amazing.
DEEBA RAJPAL – PASSIONATE ABOUT BAKING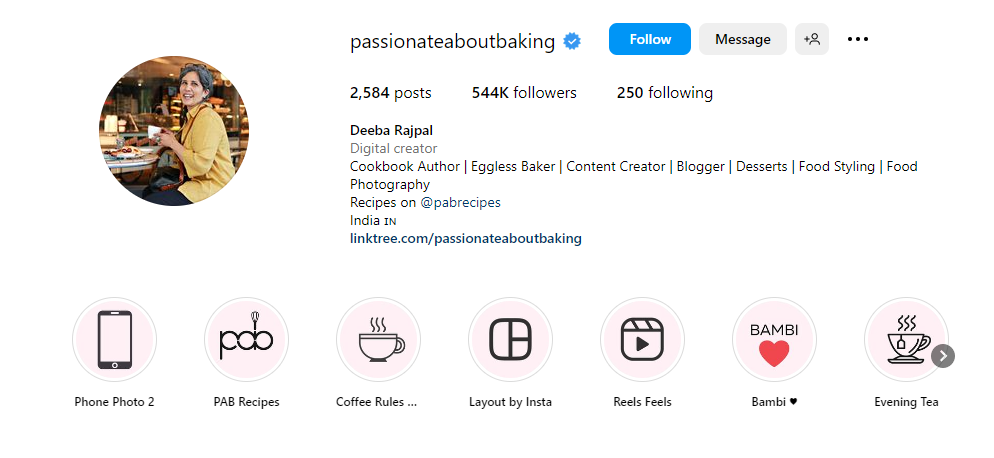 The food blogger community is enchanted by "Passionate About Baking," a blog that rekindles our love for food.
If you have a sweet tooth, Deeba Rajpal is the perfect match for you.
She is an enthusiastic food writer, recipe developer, and passionate baker who focuses on using only seasonal ingredients to curate new and delightful delicacies.
Cooking is a therapeutic activity for Deeba Rajpal, allowing her to express her creativity fully.
The innovative and tempting recipes and photographs featured on her blog, Passionate About Baking, will capture your attention and leave you wanting more.
Uma Raghuraman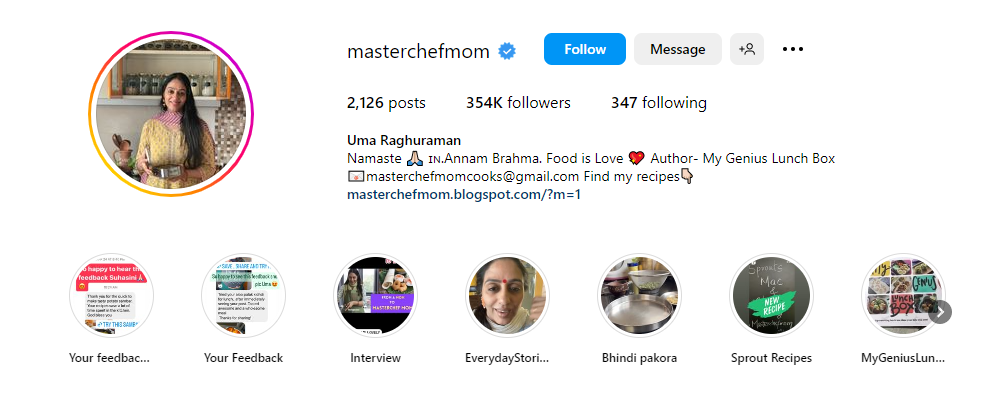 Uma Raghuraman, popularly known as Masterchef Mom, has secured a coveted spot in Forbes India's Top 100 Digital Stars 2022, cementing her position in the digital realm.
As a mother of two, Raghuraman has mastered the art of cooking and shares her expertise through her online presence.
Her recipes are not only tasty but also nutritious and simple to prepare.
In fact, her talent has been recognized by Saveur Magazine, which awarded her the Best Food Instagram Award.
Keep up with Raghuraman to experience her culinary creations firsthand.
Harpal Singh Sokhi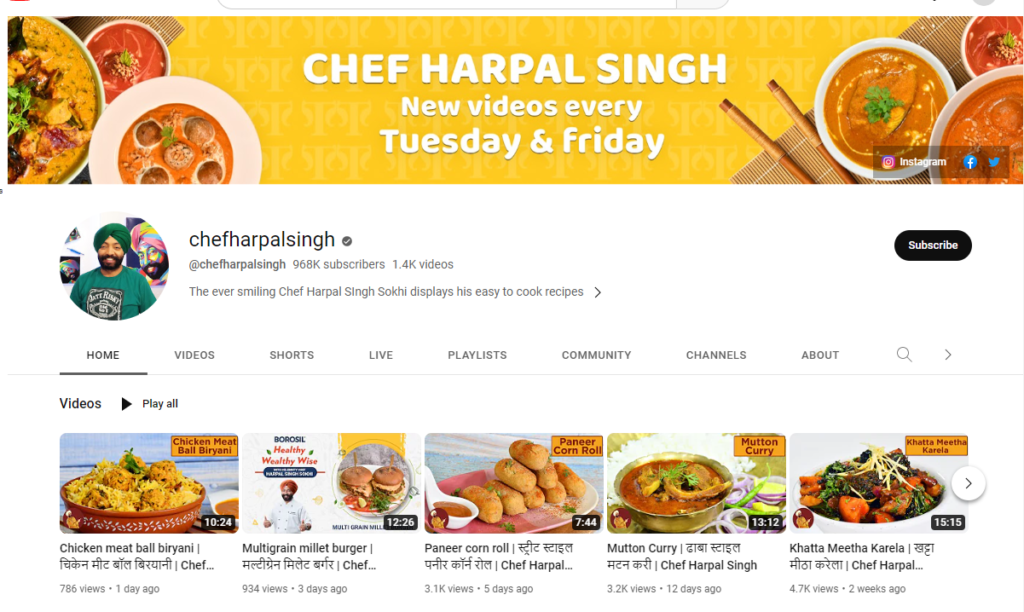 If you have a penchant for North Indian cuisine, there is no one better to follow than Harpal Singh Sokhi!
Whether it's hummus falafel and papad nachos with salsa or chicken tikka masala, Sokhi has got you covered with his diverse range of recipes.
Having previously worked with renowned restaurant chains, he launched his own venture in 2013 – The Punjabi Tadka.
Follow him to discover the insider tips and tricks for preparing authentic Indian dishes using ingenious ingredients.
Hina Gujral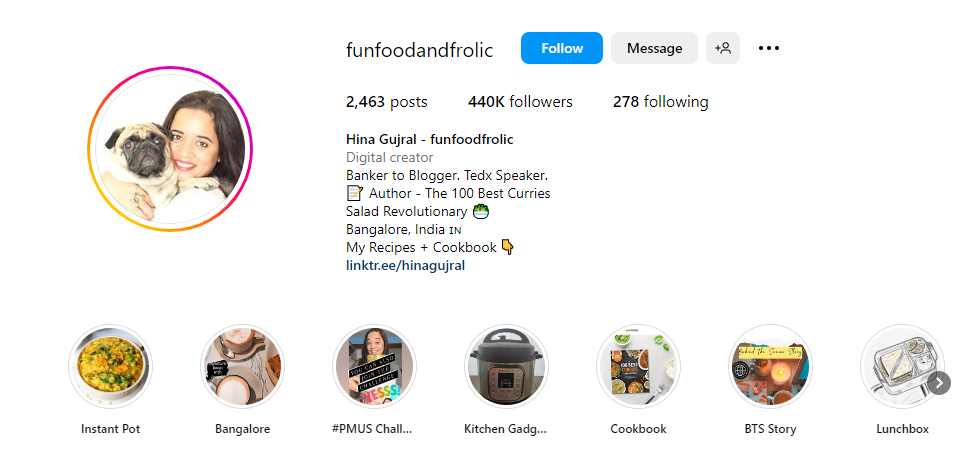 Hina Gujral's journey from a banker to a blogger is truly captivating.
Having worked as a financial analyst in the past, she now pursues her passion for food blogging, writing, creating digital content, and influencing social media, all with finesse and flavor.
If you enjoy visually appealing food content, then Gujral's social media handle is the perfect destination for you.
She shares a variety of recipes that are not only healthy but also unique in their own way.
Moreover, her book titled "The 100 Best Curries" is a testament to her culinary expertise.
Tarla Dalal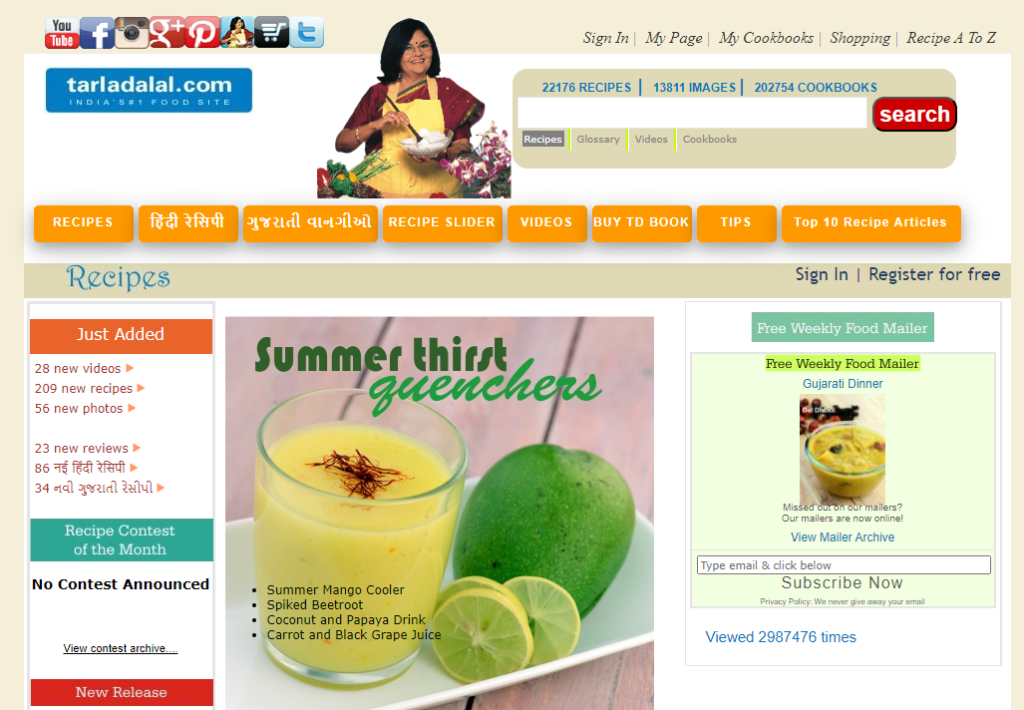 Padma Shree Tarla Dalal was a highly esteemed Indian food writer, renowned cooking show host, and chef.
Her first book, The Pleasures of Vegetarian Cooking, published in 1974, skyrocketed her to fame and sold over 1.5 million copies, making her an overnight sensation.
She went on to become India's top cookery author, having written over 150 cooking books.
Tarla hosted two widely popular cookery shows, The Tarla Dalal Show and Cook It Up With Tarla Dalal.
Although she was known for her expertise in Indian cuisine, particularly Gujarati, she also introduced and popularized foreign cuisines to the masses.
Despite her passing in 2013, Tarla's food blog still dominates the charts with over 2.8 million visitors per month.
Her YouTube channel boasts a collection of over 1000+ videos that are still actively viewed. Additionally, her mobile app remains a best-seller on Apple's app store.
In recognition of her culinary contributions, Tarla was awarded the Padma Shree Award in 2007, becoming the first Indian woman to receive a National award in this category.
She was also honored as the "Woman of the Year" by the Indian Merchant Chamber in the same year.
Sharmilee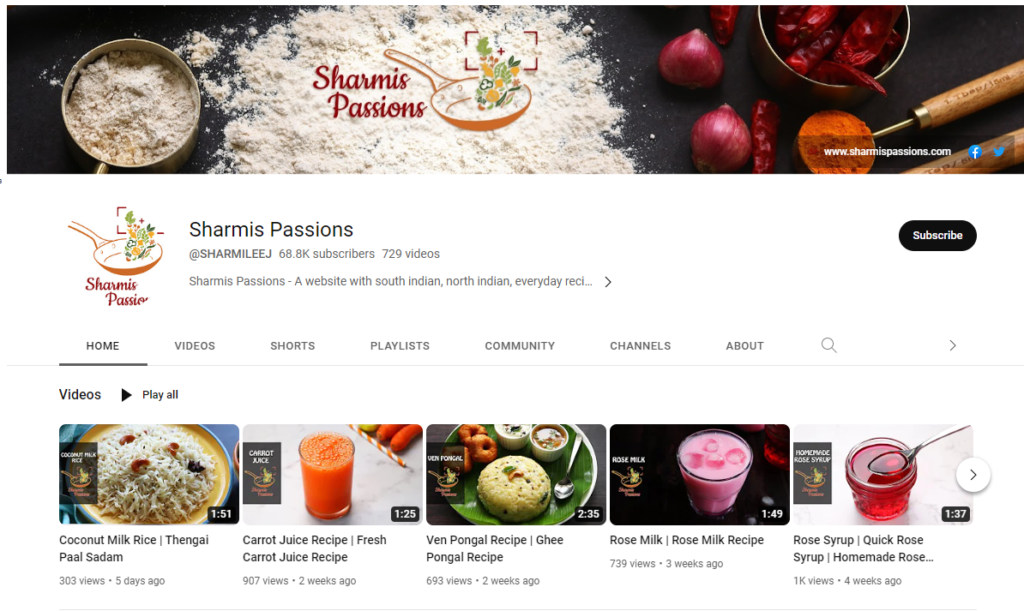 In 2009, Sharmilee Jayaprakash, a woman from South India, discovered her passion for food blogging while searching for a recipe.
This discovery was a turning point in her life, prompting her to quit her job and dedicate herself fully to blogging about food.
She saw it as an opportunity to provide healthy meals for her newborn child.
Although she wasn't initially an expert in the kitchen, Sharmilee's dedication to her blog led her to practice and improve her cooking skills, starting with South Indian cuisine.
The idea of cooking, taking photos, and sharing her recipes inspired her to transition from an IT manager to a food blogger. With time, her love for food led her to experiment with different cuisines.
Most of the recipes featured on her blog are either passed down from her mother or sourced from cookbooks and friends.
Sharmis Passion covers a wide range of Indian and international cuisines.
Padhu Sankar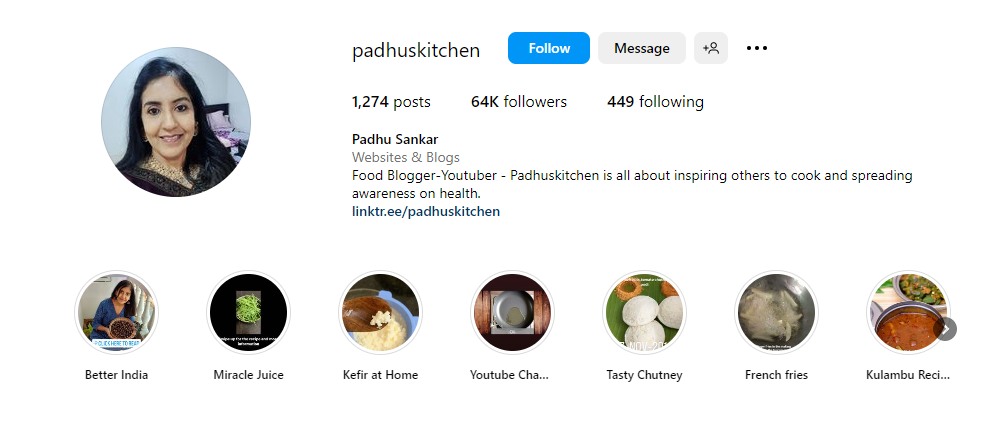 Padhu is a multi-talented individual who wears many hats such as a chef, photographer, recipe developer, and web designer.
He is the proud founder of Padhu's Kitchen, a highly sought-after food blog that has gained immense popularity over the years.
This food blog is a treasure trove of simple Indian vegetarian recipes, kids-friendly recipes, Indian festival recipes, traditional South Indian vegetarian recipes, cooking basics, and much more.
The driving force behind Padhu's Kitchen is his passion for inspiring potential cooks to unleash their culinary skills.
Whether you're a vegetarian or looking to enhance your cooking repertoire, this food blog caters to your needs.
The blog boasts an array of Indian vegetarian recipes accompanied by captivating pictures. Additionally, it is a platform to share numerous recipes that have been passed down from one generation to the next.
For beginners, several posts feature step-by-step pictures and cooking instructions, making it easy for anyone to replicate the dishes.
What do you need to get started as a food blogger in India?
To become a successful food blogger in India, you must have an intense passion for food and the ability to express your thoughts effectively.
It is essential to create a niche for yourself, ranging from street food or home-cooked meals to high-end restaurants, depending on your interests.
A great camera is also crucial since visuals are just as important as the content itself.
To get started with blogging, one must set up their blog through platforms like WordPress or Blogger; choosing a theme that suits your style and aesthetics is essential.
Social media presence is also crucial since most of the audience can be found here.
Once you've gained reasonable traction on social media and your blog, collaborations with restaurants, cafes, or other bloggers could help expand your reach even further.